Developped by Vitalbase, Vibby OAK is a new generation of wrist and neck-worn automatic fall detector, featuring a fall trigger, replacing conventional push buttons. The enhanced reliability and the new design allow to protect frail people of any age.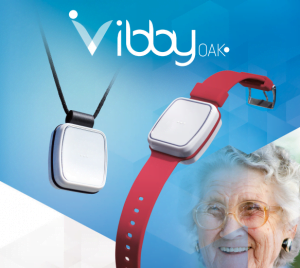 Falls: a global public health problem affecting mainly seniors
Falls can occur at any time in everyday life and in every room of the house. Age is the main aggravating factor
Figures about falls

1rst cause of accidental death in Europe over 65

12 000 deaths per year
37 millions falls/years in the world require care

After 75 years, the risk of falling is at least 50%
1h without intervention often entails serious and non-reversible consequences
Focus on th Vibby Oak
For 10 years, the Vibby OAK has been the 1st wrist & neck-worn automatic fall detector on the market to foster autonomy at home and security in health care facilities.
When a fall is detected the Vibby OAK will automatically send an alarm to a system connected to a telecare centre or the nursing staff.
The Vibby OAK is the effective solution to reduce response time in the event of a fall. The wearer maintains his autonomy and his family improves serenity.

Technical features
Manual alarm: an evidenced SOS push button is located in the middle of the Vibby OAK. By pressing the push button the wearer can manually raise an alarm at any time he feels the need.
Automatic alarm: a set of sensors and a new algorithm allow to send an alarm automatically in case of heavy fall detection.
Alarm candellation: if the user recovers to a standing position within 20 seconds after the fall and remains standing, the alarm will be cancelled.
Design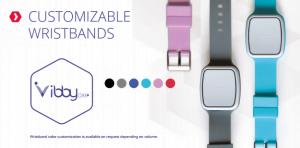 Water resistant, shockcs resistant
Dimension: 37mm x 33mm
Tickness: 12,7mm
Weight: 35g
Hypoallergenic plastic
Radio
Social alarm 869.2125 MHz, compliant
Class 1 and Class 2 long range
Compatible AM, FM, 868 MHz, ISM
Bi-directional transmitter / receiver
ASK, FSK, GSFK
BluetoothTM
Low Energy Bluetooth V4.1
EN 300 440 Class 2 (Europe)
Battery
Supplied with lithium battery – CR2477
Battery life: up to 2 years
Replaceable battery
Auto Low Battery (ALB) reporting
Monitoring
Keep alive every 24 hours
Battery level monitoring
Read more: Infographics: Falls management in care homes, a major challenge
Published by the Editorial Staff on