During its annual conference "Build 2017", Microsoft has presented a bracelet that allows to comfort Parkinson-related tremors. It is a real innovation for patients who could write their names normally again. Explanations…

A bracelet that was presented at "Microsoft Build 2017"
Microsoft's Build conference discuss in priority applications development or artificial intelligence.
This year, an object had all our attention: a bracelet presented by the searcher, Haiyan Zhang who encountered Emma Lawton, a graphist of 33 years old who has Parkinson's disease.
It's well known, that one of the principal symptoms of Parkinson's is tremor. This symptom stops the ability to draw or to write.
"Emma" a bracelet to help rewrite its own name again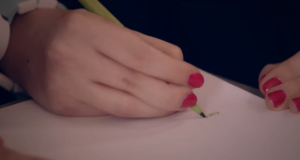 This bracelet is still in the state of prototype and is called "Emma": the name of the person affected.
With a smartphone application, it uses vibrations to manipulate the brain who sends usually erroneous signs to muscles.
"The vibrations from the bracelet seem to reduce the signs scented to the wrist, which allows to the brain to focalise on the task to accomplish", explains Microsoft.
This advance is encouraging for the persons who have Parkinson's Disease, even if it's just a prototype for now. In the future, Microsoft explains that the society will work on ameliorating "Emma" and that he is considering larger scale trials.
Read more: Parkinson: A pencil which facilitates hand writing
Published by the Editorial Staff on