The ageing of the population is an undeniable global phenomenon. This has, no doubt, been bringing along quite some challenges to the economy, social welfare, labour market, and healthcare systems, yet it is a futuristic experience travelling into the unknown as the global population is ageing and living longer than ever in history. The expertise, knowledge and experience that the seniors of Hong Kong have accumulated throughout their living years can indeed contribute and participate to an extent as much as the younger generation does in the society; and the Hong Kong Housing Society (HKHS) is committed to transform the uncertainty into opportunity, all they need is a flexible mind-set and an inclusive policy to enable the seniors to age-in-place for an active, meaningful, purposeful and healthy life in their golden years.

Being a "housing laboratory" for over 70 years, the work of the HKHS has been guided by a vision for a future in which seniors can age with joy and dignity. As such, they have pioneered various housing schemes for retirees across different income, integrated housing, recreation, health and care services under one roof, namely the Ageing-in-Place Scheme in 20 public rental estates, the Senior Citizen Residences Scheme for the middle-income group, and the Tanner Hill for the more affluent retirees who have higher expectations in their retirement years.

The HKHS has been serving their senior residents throughout the past decades, and at the same time learned their genuine needs. Instead of providing piecemeal adaptations to their living environment, they are dedicated to provide "a Home more than a Living Space" to their seniors.
The HKHS's housing projects are comprehensively designed to provide holistic support for quality living to senior residents from independent living, assisted living to dependent living, comprising home safety to create an age-friendly and safe living environment for seniors to live independently with dignity; social support to encourage seniors to keep their social circle alive by maintaining social interactions through participation in activities; and partnered health care support, to provide regular health check and exercise programme for seniors to maintain healthy lifestyle.

In addition to providing senior housing and services in their own estates, the HKHS also assist seniors in the community at large to age-in-place through public education at the Elderly Resources Centre (ERC). Riding on the solid foundation of serving over 53,000 senior residents and ERC visitors per year, they provide a large-scale real-life test bed for solution providers to obtain reliable user feedback. They've established the Living Lab in Gerontechnology for Age-Friendly Home (Age-Friendly Home Living Lab) to serve as an intermediary platform for transforming age-friendly concept into practical home solutions through co-creations with cross-generational and cross-sectoral partnership.

The HKHS's Age-Friendly Home Living Lab has been admitted as an adherent member of the European Network of Living Labs (ENoLL), being the first and only Living Lab certified by ENoLL in Hong Kong. This membership has broadened the international appeal of their Age-Friendly Home Living Lab and gain the opportunity to raise their standards and keep abreast of the latest development of other Living Labs around the globe.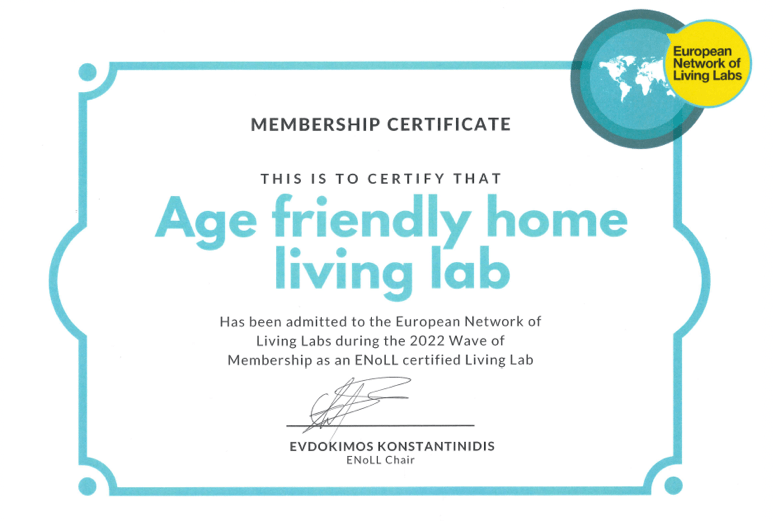 At the present, their Age-Friendly Home Living Lab holds over 20 collaborative stakeholders, from professional and academic institutions, technology solution providers, Non-governmental Organisations to user groups, to enable sharing, exchanging and integrating wealth of experience, knowledge and intelligence. With their blend of ideas and their solid experience, the Hong Kong Housing Society envisions to further unleash the social capital to incubate user-driven and experience-based innovations, in response to the genuine wish list of seniors and keep pace with the evolving needs of the ageing population.
Ageing-in-place is more than providing the necessary resources for seniors to remain in their own homes and communities safely and independently. As an old Chinese saying goes : "Having a senior at home is like having a treasure in the family", seniors are their invaluable asset. By fostering wellbeing and cultivating social inclusion, the HKHS could fulfill their wish to age-in-place and allow them to actively participate in the community, creating more treasures in their society.
Testimonials of the senior residents
We've been living here since 2006. Facilities including recreational, leisure to restaurant and nursing home, enable us to enjoy peaceful and healthy ageing under one roof. Social workers and staff are highly skilled and kind-hearted to make us enjoy happy and carefree lives.

A resident
I've called it my home. I was very concerned about my retired years as a woman living alone. There's never a dull moment here, having access to all in-house facilities are especially important when I walk with a cane.

A resident
Since we moved in, we've began our carefree living and have been enjoying our retirement. All staff show their love and care, and attend everything wholeheartedly. For daily life activities, the clubhouse facilities are good enough to accommodate our daily needs.

A resident
Published by the Editorial Staff on