Through his pictures, Tony Luciani questions the stereotypes about ageing. Thanks to these black and white photos crossing humour and deep sense, his model (his mother suffering from dementia) and him are giving a different point of view of ageing and life with illness.
A mother and son story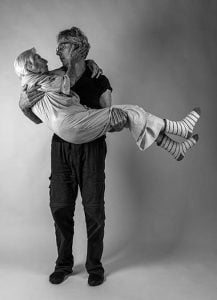 At 94 years old, Elia Luciani is a respectable and strong woman, because of her age and her physical condition. From the small village of Carrufo, Italy, she married "by chance" at 13. Then, she moved to Canada where she has been living all the rest of her life.
After loosing most of her friends and family, she broke her hip at the age of 91 years old, and started to show dementia symptoms. She started to lose her english speaking abililty, coming back to her native italian more and more.
Despite that, she has never been to an assisted living home, neither because of her physical conditions or her desease. Indeed, she lived alone until her son, Tony Luciani, moved in with her.
Tony, a 60 years old artist at the time, did not agree with the rest of the family. Indeed, they wanted to place the nonagenarian in a adapted commodity because her health state is getting worse, whereas for Tony, "taking her to live in a assisted living home wasn't an option".
Tony, a painter, has always used a lot his camera, but only as a tool for his painting. But one day, a trivial and hasardous picture has changed everything.
As luck would have it
Buying his new camera, Tony Luciani did not know he was at the infancy of a fantastic project.
Put on its tripod, the camera was supposed to take a photo of a door. Elia came up and wanted to get to the room. Then they both laughed at this funny situation, but Tony saw much more than just a trivial picture. It was the beginning of a brand new career for the mother-son duo, Elia becoming the model of her new photographer son.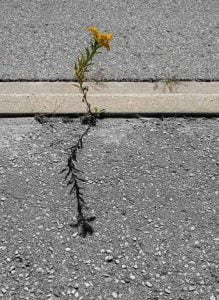 This set of pictures, "Mamma in the Meantime", put Elia (sometimes with Tony) in situations always funnier and more original.
Funny then, but also very significant. Indeed, these photographs perfectly illustrate thematics and issues much deeper: ageing and illness.
Those character traits of the model and the picture format (black and white pictures, or at least with just a little bit of bright color) give even more poignancy to this work.
Help a senior: everybody can do it his way
"After decades of playing the 'stereo-typical, traditional mother role', I've encouraged her to express herself with playfulness and humour […] She loves the process. She loves to participate, to engage, to play", Tony says.
Moving in with her, Tony takes care daily of his mother and make her everyday life easier. Working with her on this artistic project makes easier the process of accepting her nonagenarian and seek of dementia situation. "Including mum in my art has benefited both of us greatly. The modelling gives her a sense of self-worth and accomplishment."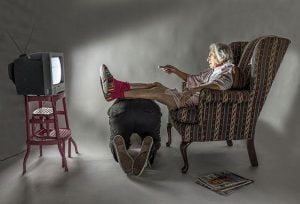 He is not the only one who decides, he talks over different scenarios with her and show her the pictures before posting them. It gives his mum self-confidence, she has new responsibilities and get out of the traditional mum role.
She is a muse, the essence of her son's artistic project, and now she is famous all over the world. "I try to place her as a symbol of other mothers and grandmothers who are in the situation that she's in. It's as much about them as it is about her and the illness."
A wonderful example of how anybody can help an older person hiw way, physically as much as morally.
Published by the Editorial Staff on