Next-generation medical electronics specialist Visiomed Group announces a partnership with Robotopi at CES Las Vegas, with the aim of equipping SoftBank Robotics' life assistant Pepper with BewellConnect® medical devices and health services.
Pepper, the next-generation life assistant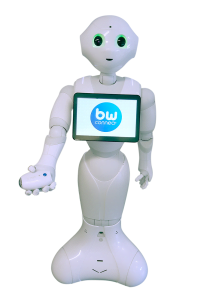 Pepper is a next-generation life assistant designed to be an indispensable sidekick to caregivers in care facilities such as hospitals, rehabilitation centers and retirement homes. Pepper handles repetitive tasks, including collecting health data using internet-enabled BewellConnect®medical devices such as MyTensio® and MyThermo®.
Pepper can also refer patients to a healthcare provider and act as an interface with offsite personnel, helping with appointment scheduling and pre-diagnostic work thanks to the BewellCheck-up® online health service and MyDoc® telemedicine service.
If needed, Pepper can work autonomously to find an intermediary to fulfill a patient's requests.
Read more: HEASE Robotics will introduce at CES the first robot exclusively for the retail and hospitality industries
Pepper plays a role at every key stage of a patient's journey
Administrative and medical reception: After the establishment inputs the patient's admission file, Pepper invites the patient and identified with their national health insurance. Pepper also allows the patient to leave messages for their visitors.
Pre-diagnosis: While waiting for diagnosis, Pepper regularly takes medical readings from the patient, using BewellConnect® medical tools to build a health record. Pepper can also reply to the patient's questions and, in case of an emergency, notify the healthcare team via MyDoc®.
Diagnosis: This stage is carried out between the doctor and the patient. Pepper can support the doctor through BewellCheck-up® artificial intelligence.
Post-diagnosis: After diagnosis, Pepper monitors the patient's vital signs. All other services are still available (messaging, questionnaires, games, etc.).
Welcoming visitors: Visitors can read the messages that the patient leaves them and find practical information about the healthcare facility.
Leaving the service: Following diagnosis, the patient is helped during the return home (transport information and supervision guidelines), with follow-up appointments, with disability access maps and access to the doctors' schedules, or with further hospitalization (practical information, messages, etc.).
Read more: Discover Alyssa, a voice-controlled personal assistant, at the CES 2017 in Las Vegas !
Focus on the humanoid robot Pepper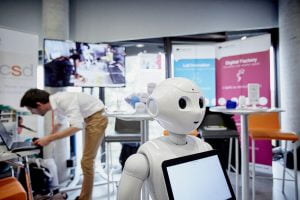 The flagship product of Softbank Robotics was officially unveiled and marketed in Europe at the last Innorobo conference. Innorobo is the first European trade show dedicated to robotics. Conserto/Robotopi is the exclusive distributor for marketing and developing medical solutions for Pepper.
Visiomed Group plans a commercial launch of Pepper the life assistant in the second half of 2017. Pepper can be paid for in monthly installment and is intended principally for healthcare establishments (retirement homes, hospitals, clinics, etc.) but also for local communities, schools,etc.
Eric Sebban, founder and CEO of VISIOMED GROUP, announced: "By bringing together humanoid service robots and online health services for the first time, we again demonstrate the strength of our innovation as much in the service of patients as for healthcare professionals."
"In the future, hospital patients will benefit from a higher level of healthcare thanks to Pepper the life assistant. At the same time, healthcare professionals will be able to rely on Pepper to carry out, under their strict supervision, repetitive everyday tasks, allowing them to concentrate on their main tasks."
> To see Pepper live, visit the website 
Published by the Editorial Staff on