An exhibition organised jointly by UK-based charity Age International and The Guardian is taking place in Trafalgar Square, London; it begun on September 29th and will go on until October 31st.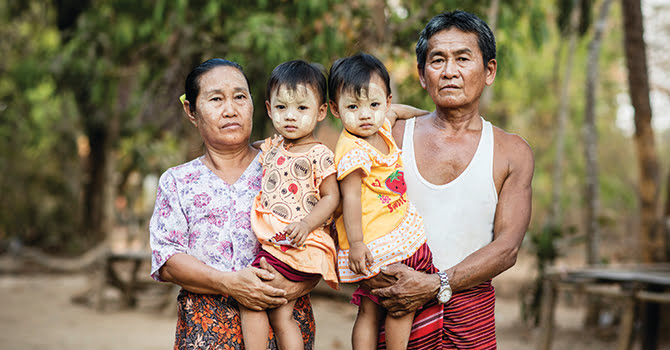 Family portraits : the missing generation of Myanmar
From September 29 to October 31st, Age International, a UK-based charity committed to helping elders in developing countries,  will be holding a photo exhibition in Trafalgar Square, London, in association with The Guardian.
The first part focuses on the "missing generation" of Myanmar, due to the mass emigration of adults of working age.  A month's salary in Thailand is worth a year's in Myanmar; therefore many adults feel that they must emigrate to be able to offer their children a better education, leaving their elderly parents to care for the children, in a phenomenon not dissimilar to that of migrant workers in China. Age International aims to support those who were left behind.
Guardian photographer David Levene visited Myanma village Anan Pin Kone in the state of Karen, where Age International has been involved in helping local elders ; his pictures reflect the reality of daily lives for "left-behind" children and elders and highlight the vital role of older adults in isolated rural communities.
Discover the winners of the 2016 Age International photography competition
For the second part of the exhibition, visitors will discover winning pictures of the photography competition held by Age International during the spring of 2016, selected for their thought-provoking or striking quality by a panel of renowned photographers, including Roger Tooth, Head of Photography at the Guardian.
The two winners were already named : Andy W. Langton won in the amateur category, for his picture "Mermaids in South Korea", featuring two Korean 'Haenyeo' ('Diving Women of Jeju'), The Haenyeo regularly go on 6-hour dives despite their age (97% of them are 50 and older).
Robin Bath's "Companions" earned him a win in the "professional" category ; it depicts an elderly lady standing casually next to a cat in the region of Lake Inle, home to the Inthas, an ethnical group living in houses built on stilts.
Elderly depiction in the various manifestations of art is somewhat lacking, contributing to the "invisible" quality of ageing in society. This exhibition could be a sign that the tide is turning, and it is not the only one: Lee Chapman recently made the headlines with his series of photographs showing elderly residents of Tokyo, and senior actresses seem to feature ever more prominently in movies and TV series.
Don't miss our #photography exhibition, which runs in @smitf_london until the end of October > https://t.co/FrIcuXRQpX pic.twitter.com/TvXvxzplHb

— Age International (@Age_Int) 4 octobre 2016
Date and location
Location: the foyer of St Martin-in-the-Fields, Trafalgar Square, London, WC2N 4JH
Date: Thursday 29 September – Monday 31 October
Admission is free.
Published by the Editorial Staff on