Online photography community Photocrowd.com has presented the results of an international photo contest on the theme of 'Ageing: the bigger picture' in partnership with the British Society of Gerontology (BSG), with £3600 (approximately $5400 USD) in cash prizes awarded.
The contest brief encouraged photographers to look beyond clichés and show a more nuanced approach to the subject. Over 1200 images were submitted from photographers all over the world.

An international photo contest
Established in 1971, the British Society of Gerontology provides a multidisciplinary forum for all those interested in the situations of older people, and in how knowledge about ageing and later life can be enhanced and improved. The Society engages with politicians, civil servants and policy-makers at the centre of power. They work in partnership with organisations including the ILC-UK, Age-UK and the British Council on Ageing to apply the knowledge gained through research and practice to improving quality of life in old age. They're committed to building capacity in ageing research through support of both emerging researchers in ageing (ERA) and also more established gerontologists.
Photocrowd.com is a global, independent online community for photographers – whether it's their hobby, their job, or somewhere in between. Founded by two professional photographers from the UK, it's a place to enjoy photography, meet other photographers, share images, build a profile, learn from leading experts, and get motivated to shoot new work.
Professor Sheila Peace, president of BSG, said: "This has been an exciting venture, bringing to our attention the beauty, experience and intergenerational dimensions of global ageing. Our congratulations to the winners, whom we hope have inspired us all to go on capturing those images that show the value and diversity of our world as we grow older. To have over 1200 photos to consider and to generate more than 200,000 votes is tremendous. Let's keep being inclusive in embracing these images of ageing."
And the winners are :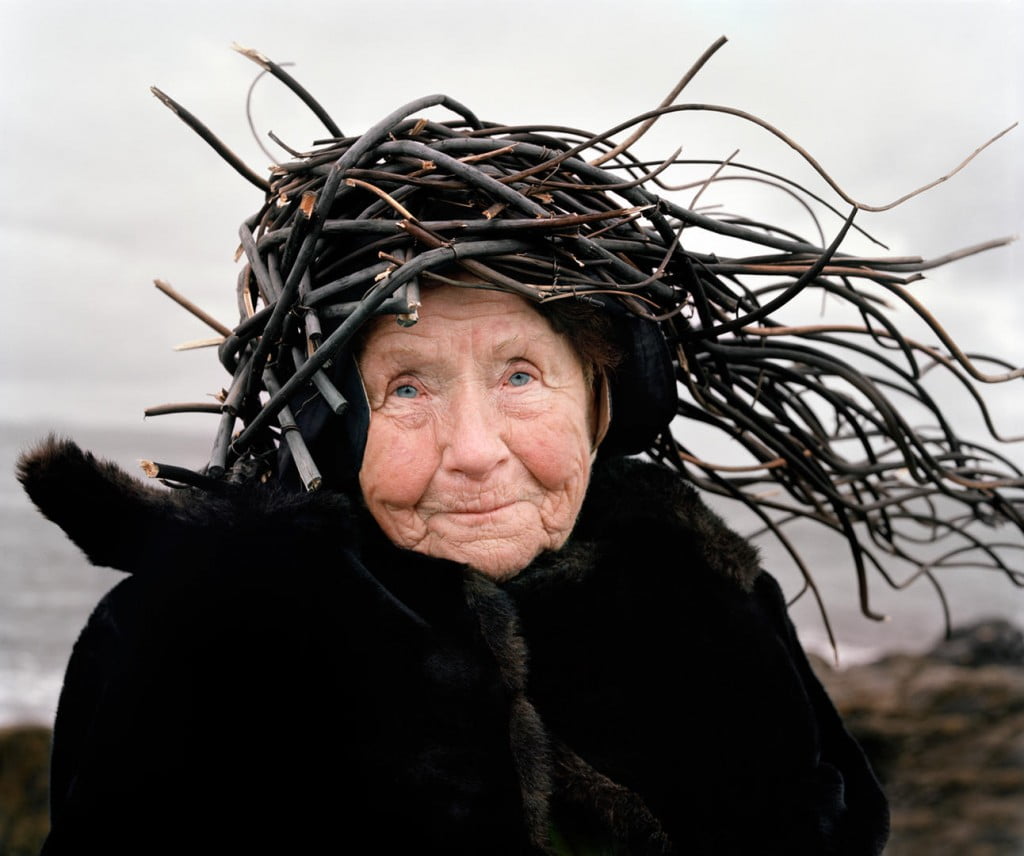 'Eyes as Big as Plates # Agnes II (Norway 2011) by Karoline Hjorth & Riitta Ikonen/Photocrowd.com
Agnes made her first parachute jump at 85. Her second jump was a birthday present when she turned 90. Now, at 95, Agnes has survived two car crashes and has never been ill. "It was my grandchildren's birthday gift idea that we all would all do a parachute jump together. I think most of my family were laughing and imagining how I would land on my bum and roll around like a ball. The thing I was mostly concerned with was the tremendous pressure when we jumped out of the plane, and prepared myself for something along the line of being hit by a flat hand. But floating through the air was pure joy and I didn't spend a second worrying about falling down or hitting the ground. Life was just as dear to me as it was to the guy who jumped with me, and the whole jump was a piece of cake. Everybody can do it". To us, Agnes is a role model and a perfect embodiment of the fabled north wind.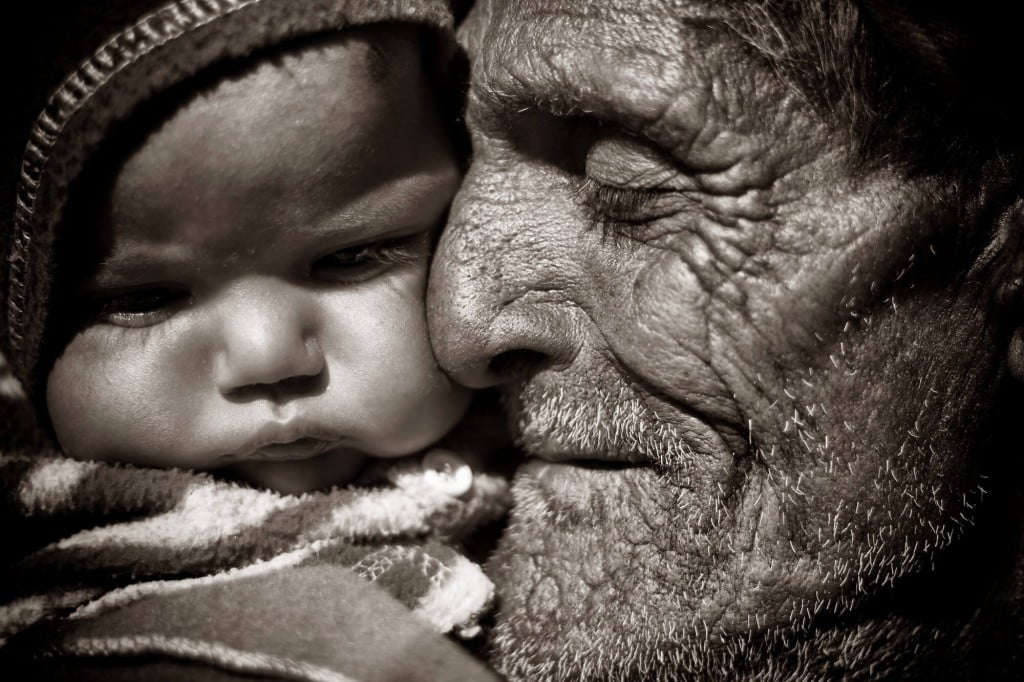 'Circle of life' by Hardik Gaurav/Photocrowd.com
This photo was shot when the old man was playing along with his great grandson in a small village of Udaipur, during my Anthropological fieldwork.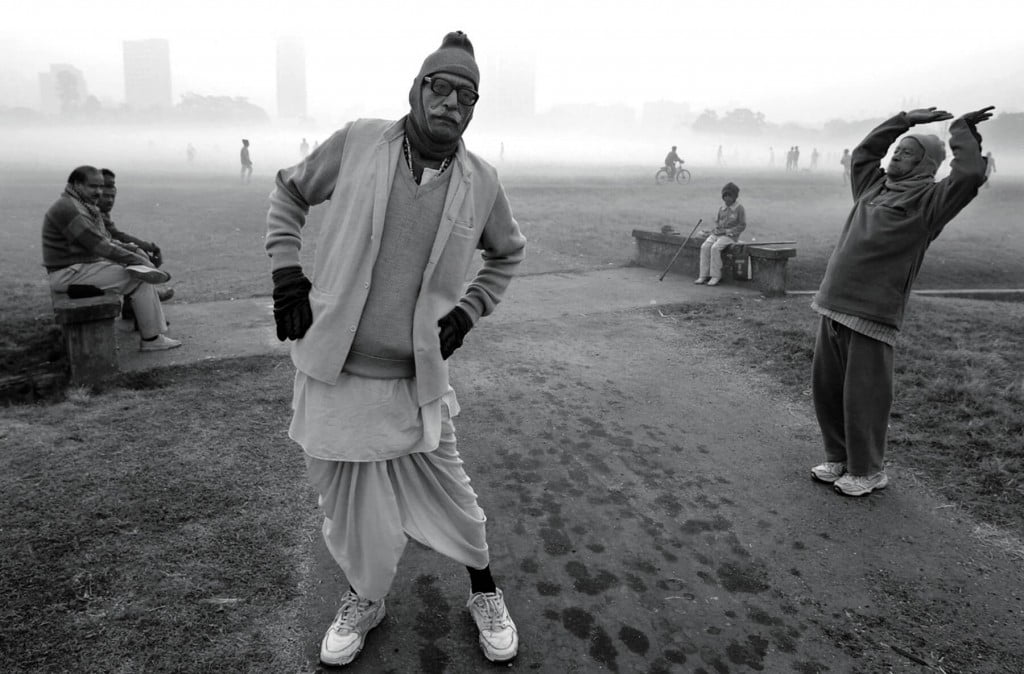 'Fighting Fit' by Sudipto Das/Photocrowd.com
Elderly people try some alternative ways to keep themselves fit early on a winter's morning at a city park in Kolkata, India.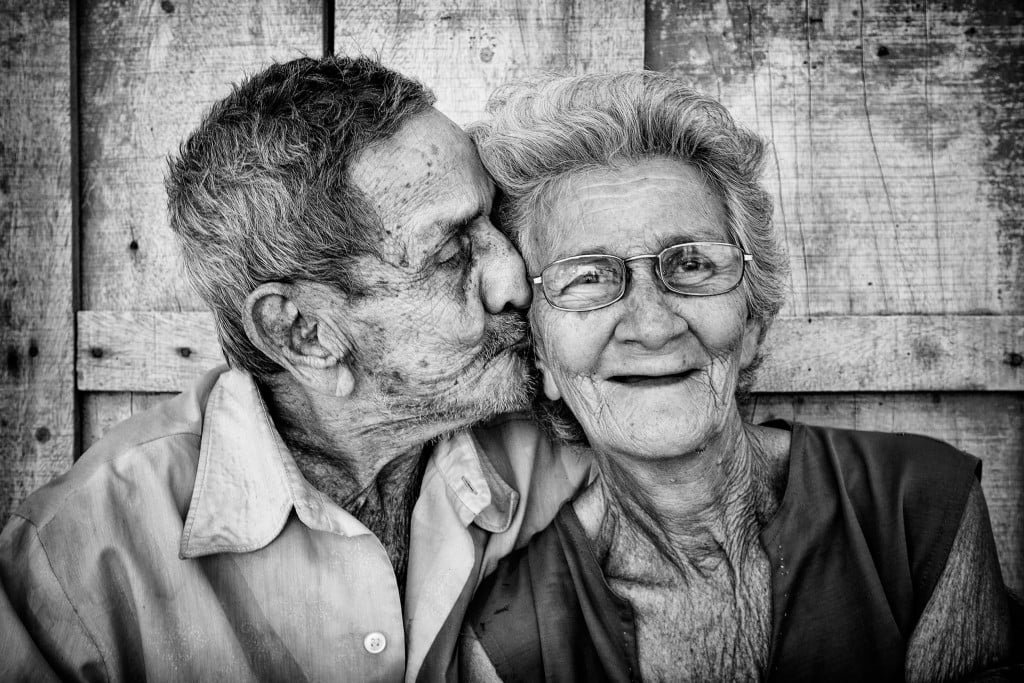 'Eternal Love' by Willem Kuijpers/Photocrowd.com
"This heartwarming and genuine capture could have come directly from Walker Evans' series for the Farm Security agency in 1935 – the treatment , the background and the characters all look as though they're from that period. However, this image entitled 'Eternal love' is both then and now, in fact it's timeless. It is a moment of comfort, but is also slightly awkward as this sort of public display is not the done thing! The perfection of the contrast and greyscale gives this one a good shout in any contest." – Judges review.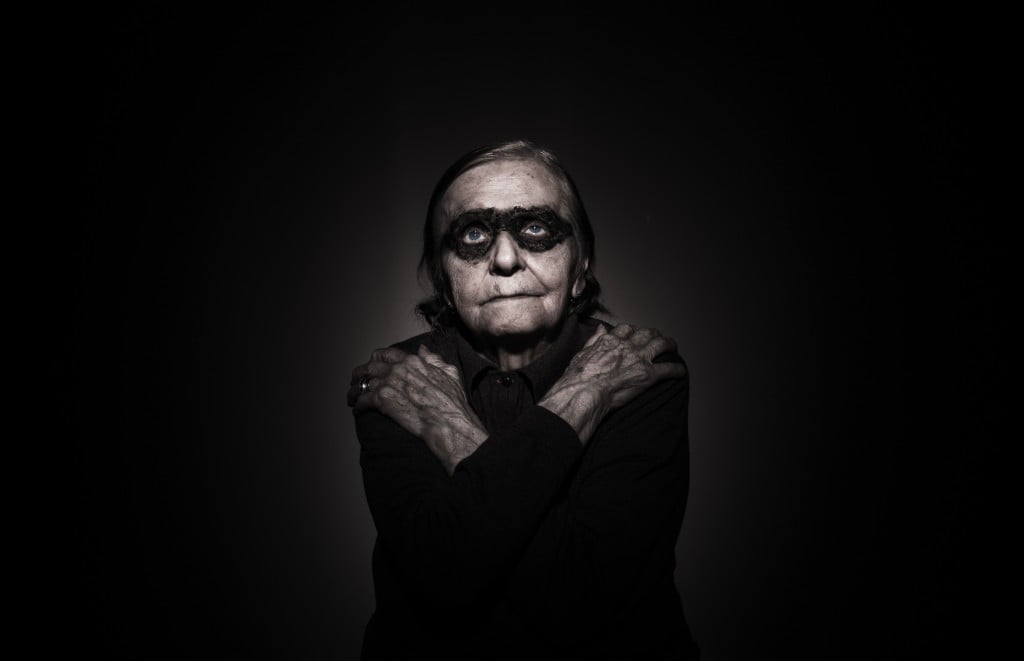 'Grandma is my heroine' by Federico de Gyldenfeldt/Photocrowd.com
My grandmother is always up for portraits, she has fun when I take pictures of her and that's what I love about her, how she has fun. I remember when I put on her make up to create the eye mask effect, she looked in the mirror and couldn't stop laughing, and said "You are crazy! We both are!".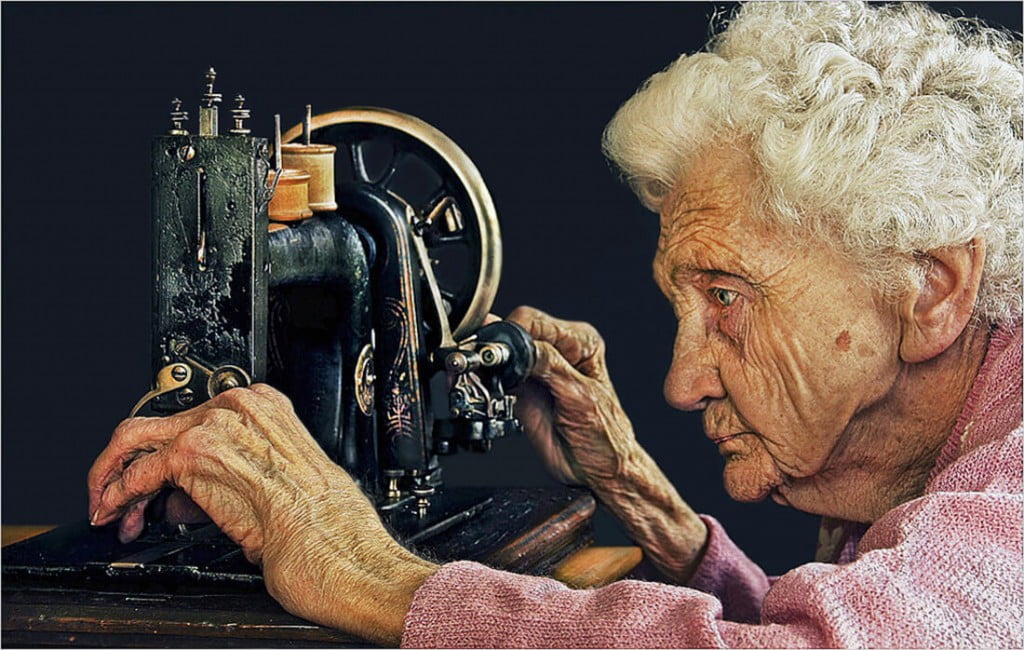 '91' by Leon/Photocrowd.com
I took this image of a 91 year old lady working on the same sewing machine she's used on her whole life.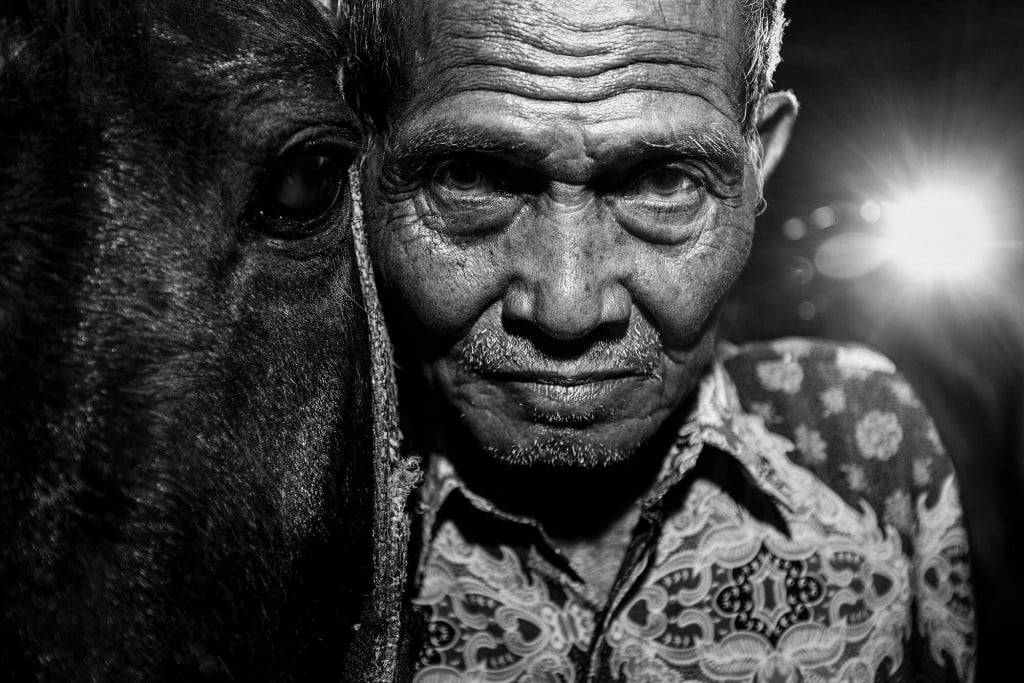 'Best Friend' by Hendi Syarifuddin/Photocrowd.com
"This dark and moody image, with the theatrical nature of the lighting and the slightly sinister way the subjects are interacting with the camera gives the image its impact. On a technical note the lighting from above and to the back right of the subjects adds to the drama and the mystery. It is a fascinating story and starts the conversation about the context and the relationships. A really 'out there' image, and one that is strong enough to make the top four." – Judges review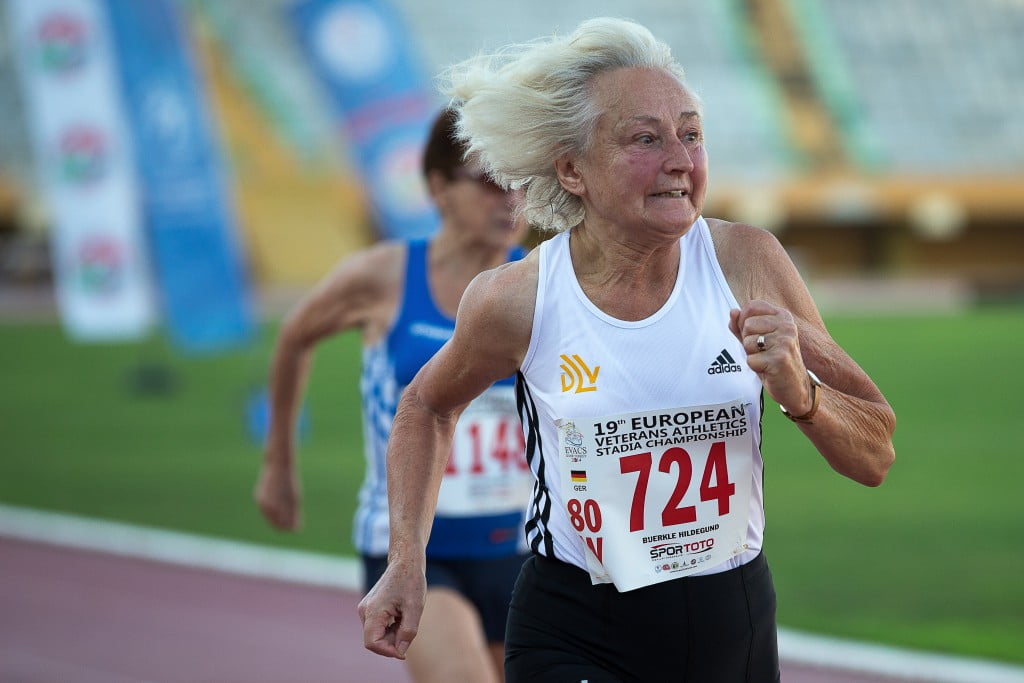 'Hildegund Buerkle, European 100m Champion, 80-84 year old age group' by Alex Rotas /Photocrowd.com
German athlete Hildegund Buerkle, born 1934, heads for gold medal and a new European and world record in the women's 100m dash, 80-84 year old age category. She was competing at the European Veterans Athletics Championships in Izmir, Turkey, in August 2014 and she crossed the finishing line in 18.16 seconds.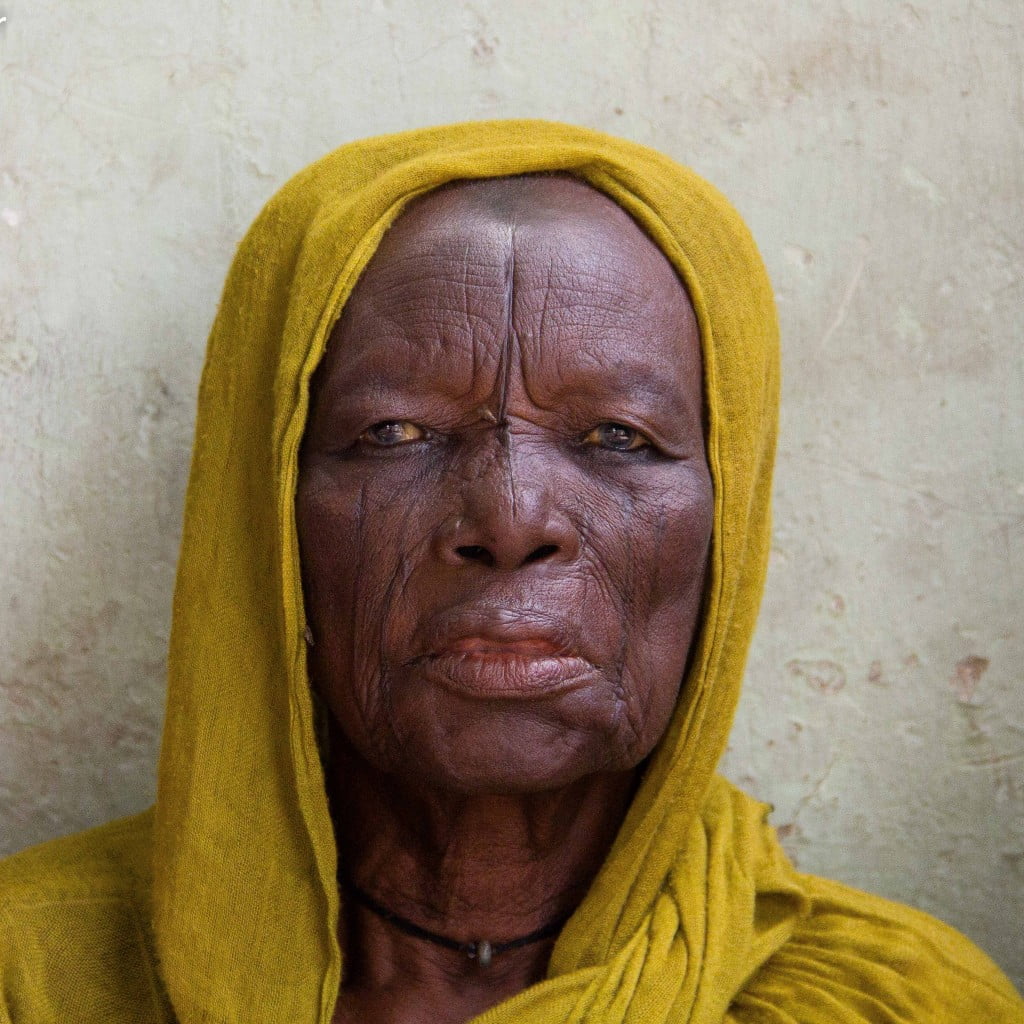 'Ageing process in a war torn town' by Fati/Photocrowd.com
An old woman in Maiduguri, Nigeria sits quietly after enduring months of religious crisis that has ripped apart her village of Bama. Old men and women have walked miles to reach Maiduguri to escape terror. She barely speaks and what wonders what she has been through. War and its impact can deteriorate the aged mentally, physically and emotionally further causing debilitating illnesses.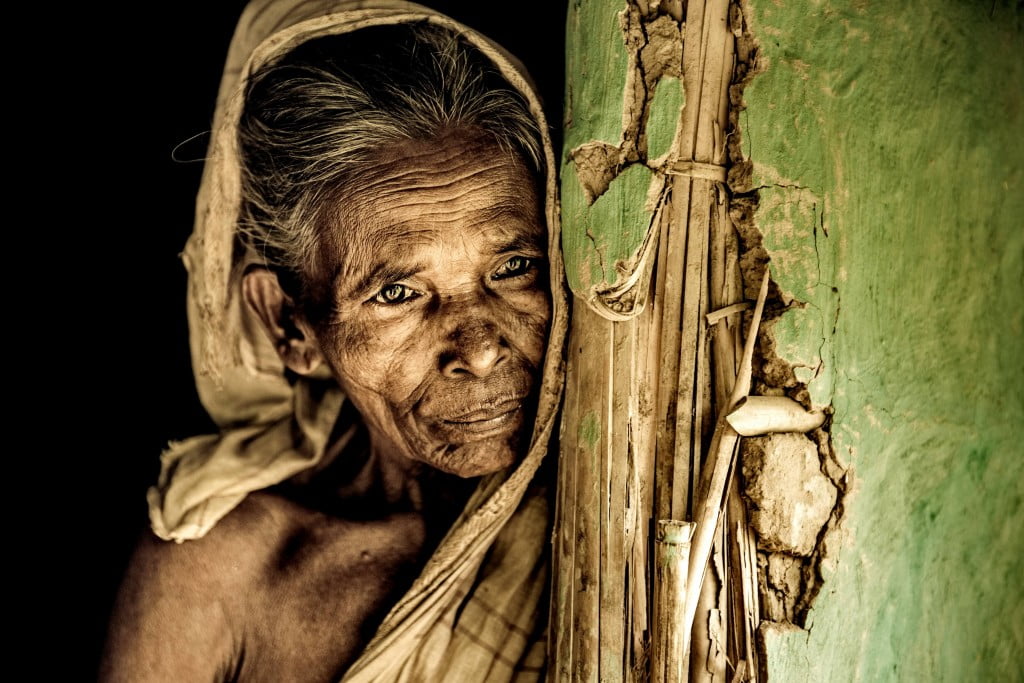 'Anticiaption' by mmz_khan/Photocrowd.com
This picture was taken at Jaintapur, Sylhet. The woman is looking outside of her home waiting for someone or something.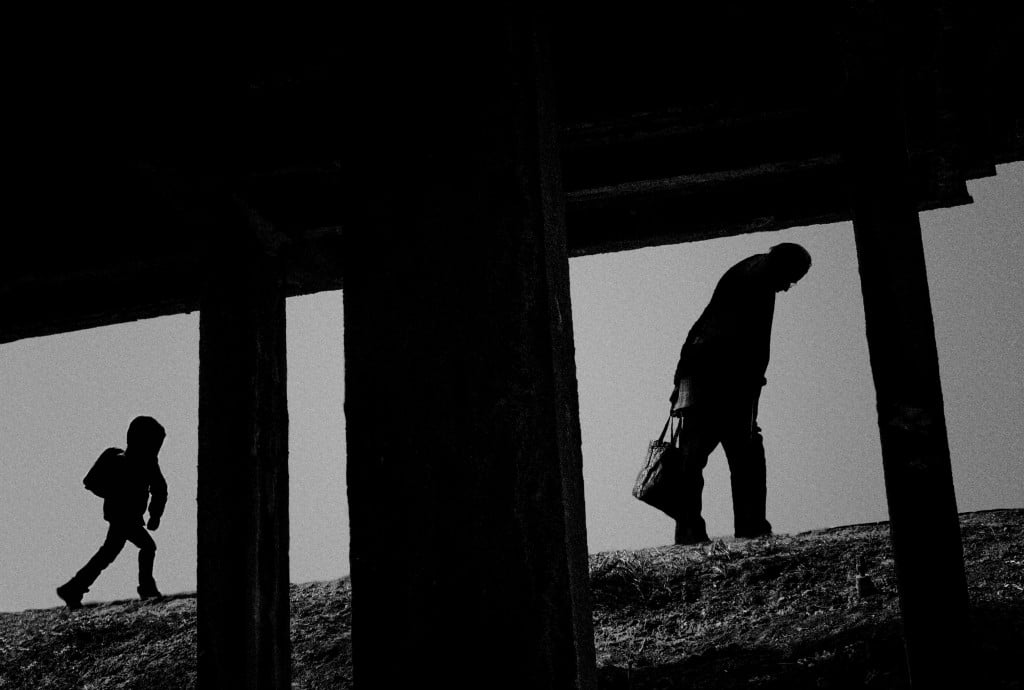 'Life is a steep hill' by Marko Visacki/Photocrowd.com
"In this extraordinary image the photographer has caught a moment that makes us see in such graphic terms the moments in time of the human condition. The treatment of the high contrast and block framing of the dark pillars brings to our attention the contrast in the physicality of the subjects, and is almost a metaphor for the passage of time – the young boy is striding towards the future, whilst the labouring head-drop of the old man tells its own story." – Judges review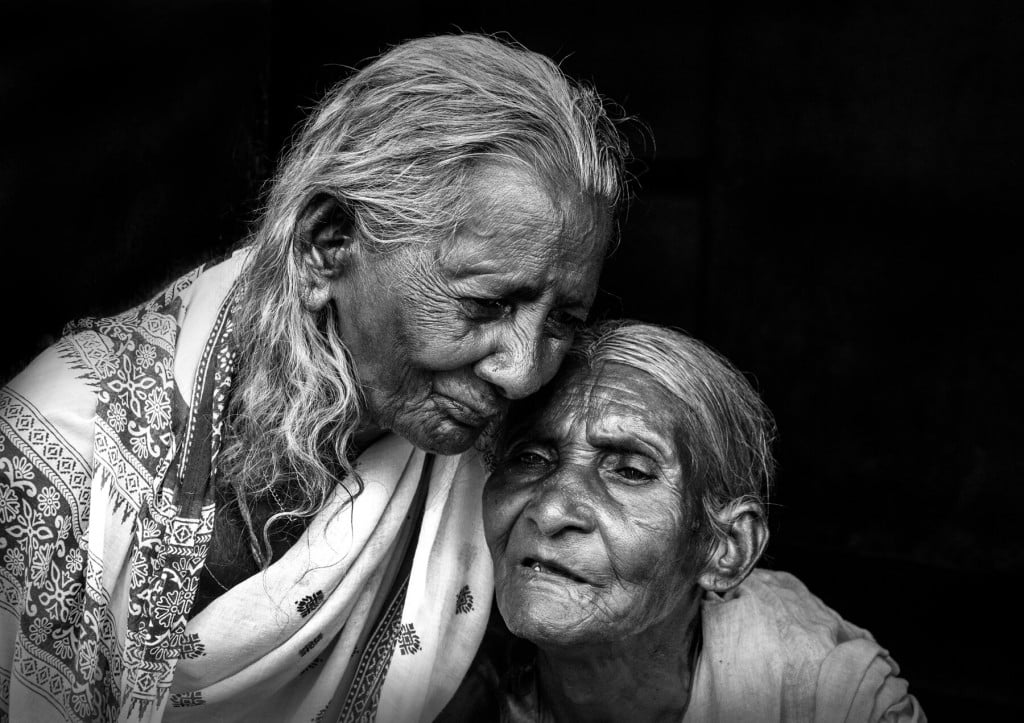 'Timeless Friendship' by Nimai Chandra Ghosh/Photocrowd.com
I was on a photo outing in Purulia in West Bengal when I took this image. The two elderly ladies had just met after a long time, and clearly enjoying their friendship once more.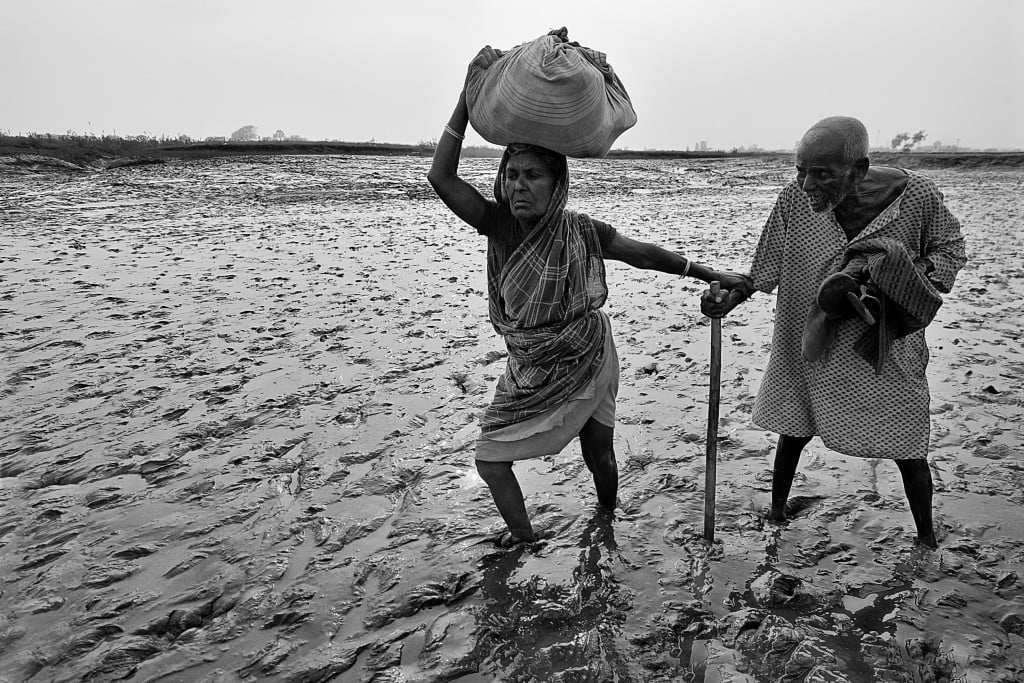 'Helping Hand' by Joydeep Mukherjee/Photocrowd.com
Ageing together… I believe ageing, as a natural phenomenon, strikes everyone no matter where they belong to or how they have spent their lives. This phase of life may be seen by individuals in different ways. It is all about how one accepts it. I found this couple in a remote place of West Bengal in India, crossing the muddy river bed to catch a boat, holding on to one another. Ageing, for them, means more responsibility, more togetherness, being the indispensable support for each other's lives. Ageing, after facing all hardships, must have brought them closer. This bond, that gets stronger with ageing, is common beyond boundaries of religion or culture.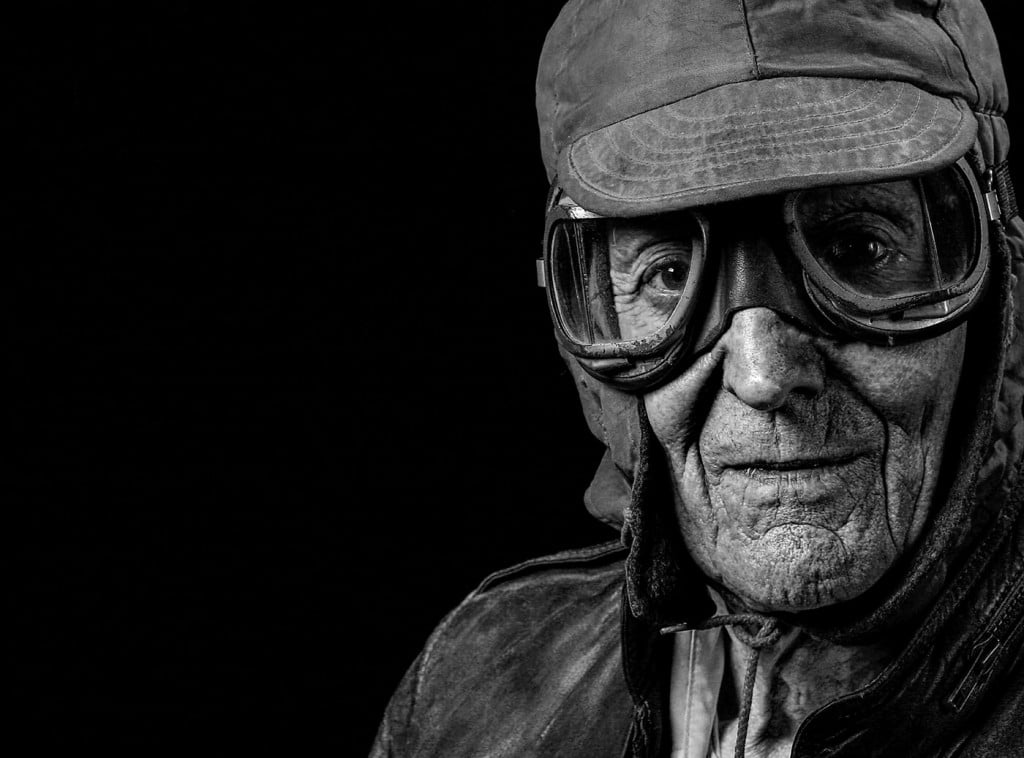 'FRANK' by Carol Johnstone/Photocrowd.com
Frank was a pilot trainer during wartime England. He was so good to photograph, always with a laugh and a joke. A joy!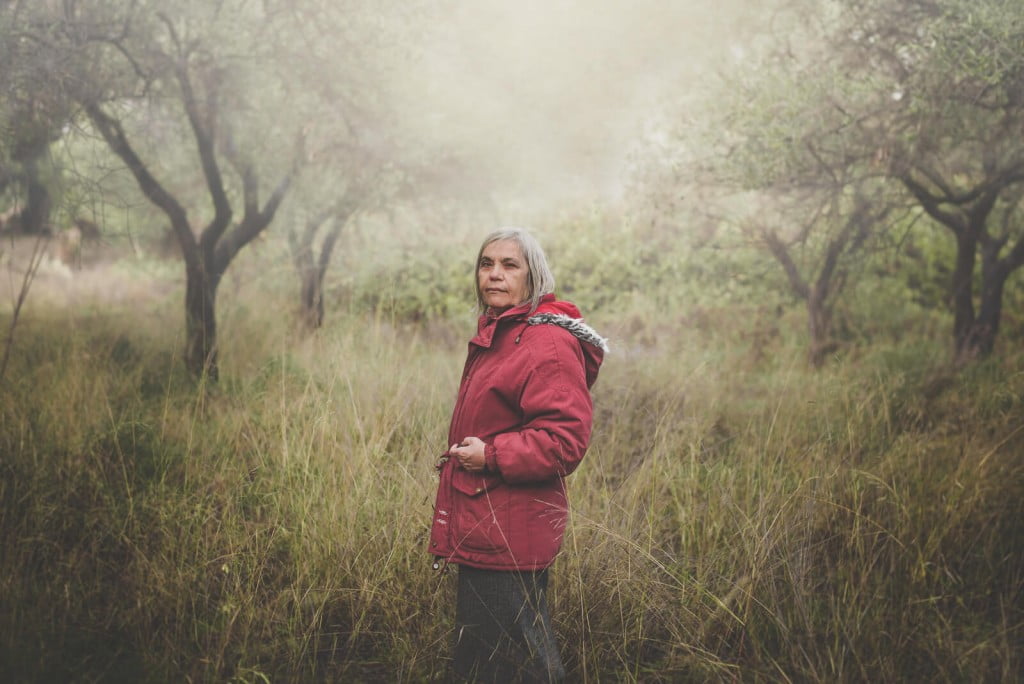 'Francesca' by Helena Mim/Photocrowd.com
My mother used to live in a rural suburban area near Athens, Greece. One day in late winter we decided to take a walk and gather wild asparagus shoots for our dinner. The saturated colours of natural green and yellow hues made an excellent contrast with my mother's red jacket. Also her hair reminded me of the grey clouds. This was my decisive moment because I realised how that wild scenery perfectly matched my mother's "wild" personality, so I asked her to pose in front of my camera. I immediately had the sense that it was going to be a unique environmental portrait. Little Red Riding Hood comes to my mind… Francesca could be the elderly version.
Published by the Editorial Staff on