Many studies suggest, that using our brain regularly, while playing video games or serious games, allows "to limit the time's effects".
A progressive integration of video games and serious games?
A study of the University of California in San Francisco, led by Adam Gazzaley, explains that video games and serious games could improve the mental capacities of adults who have more than 60 years.
Thereby, lots of establishments as retirement residences, tend to integrate those serious games in their programmes.
Video games would contribute in "rejuvenating" the brain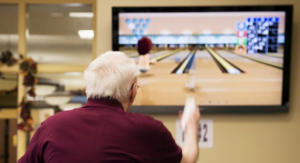 Indeed, contrary to prejudges, video games can bring many benefits to seniors, specifically in slowing the decline of cognitive capacities.
They may also help in limiting the brain aging and contribute to many other devices in improving the quality of life of aging people.
Video games for elderly
Some examples

Retirement residences are increasingly equipped with WII, that allows elderly people to have fun in groups, while practicing a convivial activity.

The 3D video game, used in the study NeuroRacer, allows to ameliorate the ability to pay more attention, to improve short-term memory and the capacity of doing many tasks at the same time.

The serious game Azagane has also thought of helping the medical profession in detecting and following the evolution of Alzheimer disease and similar diseases.

Beside serious games that were developed specifically for seniors, there are also other games with larger public on console or tablets for example.
Published by the Editorial Staff on