Life Design Sonore, a french start-up, has designed an innovative sound diffusion system, called NEW'EE, to increase the seniors' listening comfort, enabling them to get a better sound without headphone and without increase the volume.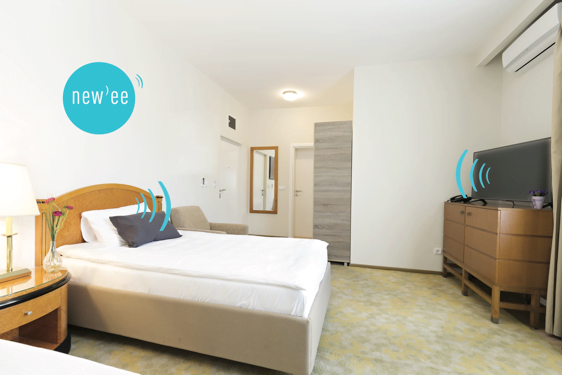 NEW'EE: an innovative sound diffusion system
One in four people had to increase the volume on the radio or TV because of a loud environment, thereby making more noise, and 50% of older people (more than 75 years old) have hearing problems.
In order to meet this need, the french start-up Life Design Sonore has designed the NEW'EE® sound band. Fixed behind a headboard, this product creates an environment in which the user is immerse. The sound is diffused through the headboard : the audio volume can be reduced, the listening experience is improved.
The NEW'EE® system doesn't cut off the users off from their environment and enables the reduction of noise pollution.
Read more: Sennheiser: wireless headphones for hearing-impaired people
Watch the video:
NEW'EE will be installed during 2 months in French retirement homes
With the NEW'EE® system, Life Design Sonore has been selected by the CARSAT Centre-Ouest to receive a financial support in order to test these products in 3 retirements homes and 1 hospital for ederly people. The goal is to evaluate the system's benefits for seniors, their families and the caregivers.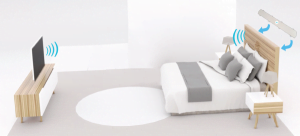 40 sound bands will be tested in seniors' bedrooms during two months. A few weeks after the beginning of the experimentation, a sociologist will meet the users and their immediate circle (families, staff…) to receive their opinions.
Benoit TEXIER, CEO of the start-up, explained: « An innovation has to be easy to use and to install. That's what we do with the NEW'EE® system. »
« The NEW'EE® sound band has to increase the seniors listening comfort. But it also has to increase the life quality of all the people working in the establishment by reducing the noise pollution. », explained him.
Life Design Sonore is a French start-up found in 2011. Specialized in the sound integration, the company designed an innovative technology which can transform some furniture in sound diffusers, wireless, with no speaker and with a great comfort listening.
Published by the Editorial Staff on