Zen Fitness offers outside accommodations for retirement homes residents, hospitals and long term care establishments, as well as local communities, public gardens and parks.
Zen Fitness' equipments encourage physical activities
It is useless to say how important a physical activity can be for the human mind and body. That's why Zen Fitness' main objective is to make sports accessible for all dependent residents of retirement homes, in long care term establishments, for people suffering from Alzheimer's disease or with severe motor (locomotion) problems.
New equipment have been created for this purpose. For instance, a finger ladder was designed especially to solve degenerative osteoarthritis problems.
Zen Fitness always wishes to create an outside space, a meeting place in order to train the residents' senses and to encourage them to go outside and to practice a daily physical activity.
The Zen Sensorial Space, by Zen Fitness
Together with the medical staff of long term care establishments, Zen Fitness conceived the Zen Sensorial Space. It is a friendly, sensorial space to welcome both the residents and their families.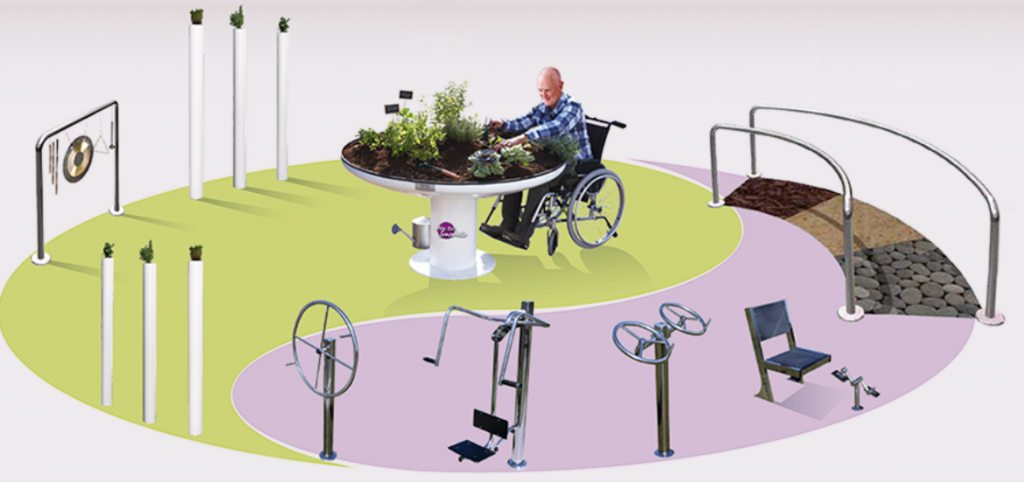 With some gymnastic apparatus installed, the space will be surrounded by vegetation and plants. This space dedicated to physical activity and sensorial discovery also includes an olfactory slalom: special tubes are installed so that plants be at the same level than the resident's noses.
Therapeutic virtues
Zen Fitness' program is conceived in order to prevent falls, but also to allow residents to enjoy other advantages, like:
Zen Fitness gymnastic apparatus help users reproducing the movements of Tai Chi, which is highly recommended for the elderly people, as there are no trauma risks.
The well-being of the resident, which eventually leads to the reduction of consumption of psychotropic drugs
Sensory stimulation, whether medical, olfactory or built around a gardening activity, may also play a major part
The benefits of being out in the open, particularly for the absorption of D vitamin but also simply to breathe fresh air
An outdoor decoration with nesting boxes, a pergola and some musical instruments. The plants are there for gardening activities, which may be therapeutically useful. For instance fragrance or orchard alleys, depending the establishment.
The gymnastic apparatus may be used as pleased, without any contraindications. They are also recommended by shoulder surgeons for auto-reeducation programs, for instance.
Zen Sensorial Spaces may also be used as kinesitherapy outdoor areas.
Published by the Editorial Staff on