VA2CS invented the V.A.C system, an innovating device created to detect falls and to alert medical staffs.
The falls are detected thanks to an optical sensor. The system is available with no need of subscription and without having to trigger a mechanism: V.A.C system is functional 24/7. In case of an anomaly, the person in charge is immediately informed.

V.A.C system includes an optical sensor connected to an algorithm which analyses the behavior and movements of a certain person or even a couple located in the room in which it is installed.
This way, any fall or unjustified extended absence are immediately detected.
For instance, if the person is in the bathroom for more than 15 minutes, the device sends an alarm to a designed third party, in order to inform them about this unusual inactivity.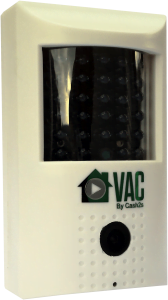 Thanks to a microphone installed on the device, the third party has the possibility to confirm the problem or not, by trying to communicate with the user.
Furthermore, the NFC technology integrated to the V.A.C system, can verify whether the caregiver was present or not.
Published by the Editorial Staff on