On April 5th, 2015, during an elderly people's swimming competition that took place in the city of Ehime, the Japanese centenarian Mieko Nagaoka beat the world record during a 1.500 meters swimming course.
Sport and sport records: it's never too late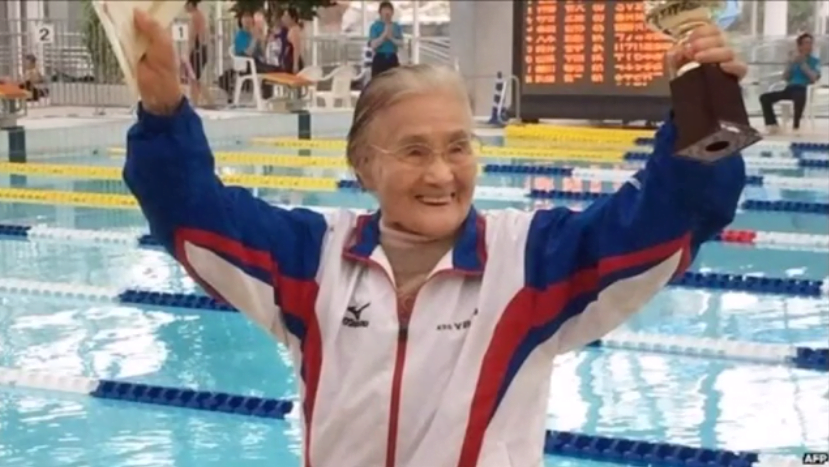 Sport is far from being reserved to the youngest. To stay healthy and to face the natural decrease of physical abilities due to ageing, working out on a regular basis is deeply recommended for the elderly: it decreases the risks of falls and obesity, maintains muscles, reduces stress and risks of cardiovascular diseases, etc.
Furthermore, Mieko Nagaoka proves yet again that it is never too late to beat sport records, following other centenarian athletes like the cyclist Robert Marchand or the swimmer Hidekichi Miyazaki. Indeed, during the swimming course, the Japanese woman has realized a impressive performance by swimming the back stroke for one hour and fifteen minutes and fifty four seconds. She was the only person to compete in the 100-104 years old category and, so far, the only one to manage such a performance.
Mieko Nagaoka started swimming at 80 years old thanks to a knee rehabilitation and still continues her efforts today. She announced during her medal ceremony that she planned to beat her record: "I want to keep swimming until I'm 105 years old if I still live". She hopes to see her performance registered in the Guinness book of records.
Besides, in 2014, she published a book telling of her sporting prowess entitled "I am hundred-year-old and I am the most active swimmer in the world", to underline her determination.
Published by the Editorial Staff on