For the past 3 years Wistiki has been busy changing the market of connected devices by offering a solution that is both useful and efficient in helping scatterbrains all over the worls keep track of their belongings.
With the 'Wistiki by Starck' collection the company called on the great designer Philippe Starck to create a line of premium and reliable products.
Now, the company presents its new innovative product: the Wistiki Ahā!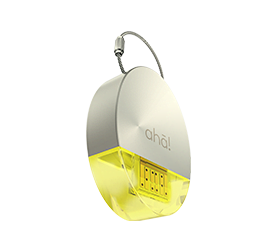 Focus on the Wistiki company
Wistiki is first and foremost a family affair that began in 2013 in the Parisian region with the three Lussato brothers who wanted to change the world for scatterbrains everywhere. Thanks to intuition and to their cat Minou, they were able to create the first connected device able to find everyday possessions.
In order to educate the market and to better understand its customers, the Lussato brothers called on MyMajorCompany (France), Indiegogo (United States) and MotionGallery (Japan) for funding. Rewarded for their creation, they received more than 800,000 Euros and made Wistiki the best selling connected device in 2014 and 2015 in France. They are also backed by important CEOs who are part of the CAC 40 such as Stéphane Richard, Martin Bouygues, Xavier Niel and Fabrice Brégier who are personally invested in the company's growth and future.
After conquering Europe, Wistiki now wants to target another leading market: the United States, that's why the company came to the United States during the Consumer Electronics Show in Las Vegas.
Read more: Discover Alyssa, a voice-controlled personal assistant, at the CES 2017 in Las Vegas !
Wistiki Ahā, the new innovation of Wistiki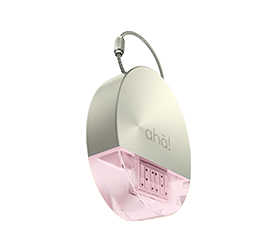 The newest addition will be the most compact connected device designed by the company. It fits in the palm of your hand and it attaches elegantly to all your daily objects: keys, purse, car, briefcase, bicycle, etc. It's the perfect union between jewellery, technology and fashion.
The Wistiki Ahā is the fruit of the Wistiki team's hard work to make the Bluetooth Low Energy tracker the best on the French and also international market.
The Wistiki Ahā! is a low energy Bluetooth tracker that makes it possible to find the objects you are most attached to by making them ring (a melodious and powerful ringtone that is 90 decibels), by locating them on a map (as precise as a Google Maps) and by finding them with the hot/cold radar system.
The Wistiki Ahā! is waterprood and has become a daily ally for every scatterbrain in any situation. It also uses the "electronic leash" feature to let you know if you are too far away from your belongings. For example, the Wistiki Ahā! will alert you if you forget your house keys at home or if you can't find your wallet.
Product available in 4 colours (orange, yellow, pink and purple), mixing with the brushed metal body, and issued with a stainless steel ring like a jewel.
Published by the Editorial Staff on