Emma Morano, the Italian supercentenarian and dean of humanity, died on the 15th of April 2017 at the age of 117 years and 137 days, in her house in the Northern city of Verbania.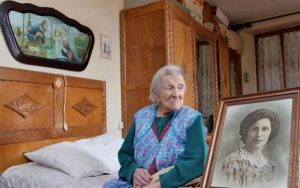 Emma Morano: an exceptional life
Emma Morano was born in 1899, and she died last Saturday at the age of 117 years and 137 days. She witnessed the two world wars. In the first one she lost her first love, and just before the start of the second one she left her husband who was too violent.
This rebel woman, who refused to be dominated by any man, made jute bags until the age of 75. This woman became the dean of humanity after the death of the American Susannah Mushatt Jones in May 2016.
During her life, she knew 11 popes, 3 kings of Italy and 12 presidents of the republic. She stayed independent until the age of 115.
Read more: Live long and prosper : two Japanese and Italian recipes for longevity
Her strict diet could explain her long life
Emma Morano picked one of the secrets of her long life to confess: her diet.
She suffered from Anemia since the age of 20. This is why her doctor advised her to eat three eggs a day, two raw in the morning and one omelette in the afternoon.
She wasn't used to eat a lot of fruits and vegetables and she stopped eating meat few years before her death.
Silvia Marchionini, the Mayor of Verbania, paid tribute to Emma Morano while explaining "she had an extraordinary life and we will always remember her strength to go forward".
Read more: Age is not an obstacle to break records and make dreams come true
Who is the new dean of humanity?
According to the Gerontology Research Group (GRG), the dean of humanity is now Violet Brown a Jamaican woman, who was born on the 10th of March 1900.
Robert Young, one of the directors of GRG, explained to the AFP that she was an example of those "super-ageing individuals who seem to age at a slower rate than normal, maybe even a few percentage points slower, but enough to make a difference".
Published by the Editorial Staff on