Wang Deshun, a famous Chinese senior model, is the new ambassador of Reebok China. At the age of 81, the octogenarian is fitter than ever, the brand chose him because he perfectly embodies its new values.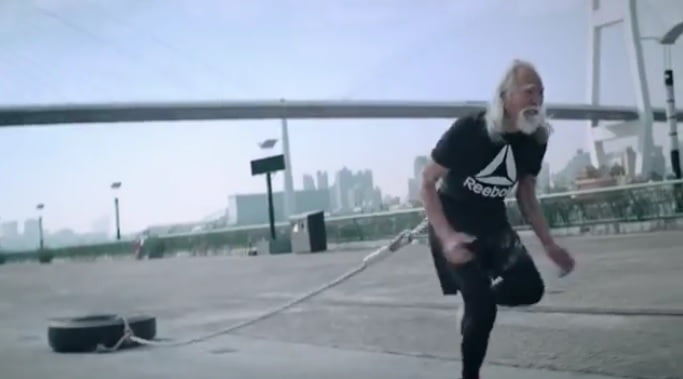 More information about "China's hottest grandpa"
Wang Deshun, the famous Chinese senior model, is known for loving to exhibit his body in the Haute Couture fashion shows. In the age of 81, he goes against the prejudices with his muscled chest, his long hair and his white beard, that makes him look so charming.
Armed with a lot of confidence, Wang Deshun is also called "the world's hottest grandpa", this octogenarian who refuses to become old, has a great spirit and loves delivering his powerful message that says "never give up on your dreams".
Before becoming a senior model, he used to be a theater actor, he started going to the gym at the age of 50, at the age of 57 he came back to the scene and he created an artistic performance a "living sculpture" then at the age of 65 he learned to ride a horse and only at age of 70 he started working his abdominal muscles.
Wang Deshun, the new ambassador of Reebok China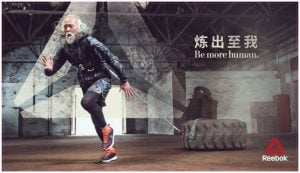 In the latest campaign of Reebok, Wang Deshun will be the new face of the brand alongside actors Yuan Shanshan and Wu Lei.
The leitmotiv: never give up on your dreams, beside his multigenerational charm, the famous model distinguishes itself from the other two models.
"We think that he can help us in sending pertinent messages which aims to push consumers into knowing more about the brand Reebok" said Tchad Wittman, the Director general of Reebok Greater China.
Reebok's recent repositioning and its new values:
Reebok has chosen to reposition itself in 2010 after an examination of the proposal of the value of the society.
Tchad Wittman explain "we have noticed that there was a change in mentality about fitness, so we decided to put a side some of our actions (…) It was not easy to make this transition to become a brand entirely devoted to the training".
The objective of this new campaign is to inspire the Chinese to strive to achieve their full potential through fitness; therefore the role of Wang Deshun is important.
Published by the Editorial Staff on