A 85-years-old woman living with dementia has learnt to play the violin and has taken part in her first live concert with a local community group.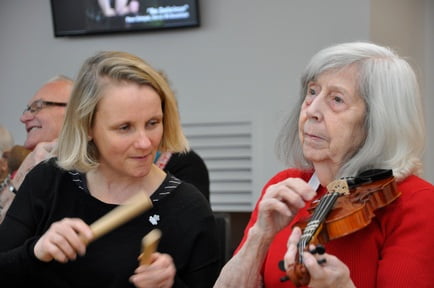 She learns violin at 85 with dementia
Pearl Durrant began to play violin in January this year as one of 20 players who are living with dementia in the community and their carers. She is the only member who lives in full-time residential care.
Fiona Pritchard, activities coordinator at Colten Care's Linden House where Mrs Durrant lives, said: "We spoke with Pearl and her family about getting involved with the group because, although she hasn't played an instrument before, she does love music".
"She always dances when we have an entertainer in and she was happy to give violin a go. She's also very comfortable going out of the home. When we drive back to Linden House from the weekly practices, I've noticed that Pearl is reminiscing more, talking about her parents, husband and other memories".
"The experience of playing seems to enhance her thought processes. She has also really bonded with the other players so she's getting a lot of out of it socially as well as musically".
Read more: Age is not an obstacle to break records and make dreams come true
Pearl Durrant has taken part in a one-hour music performance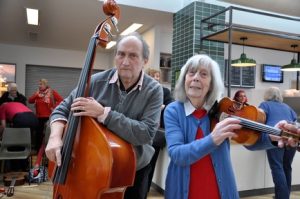 Weeks of practice culminated in a one-hour lunchtime performance at Bournemouth University's Poole House atrium. Mrs Durrant described the performance as "great fun" while her daughter said: "It was fantastic to see mum playing music for the first time and having a great experience with such a lovely group."
Mr Baker, who directed the orchestra with a flip-chart of basic notation, added: "We do a lot with percussion and repetition and Pearl is happy to try solos and is certainly exploring the instrument".
"It's about the musical experience but there is also a big social and pastoral element too. Pearl always approaches us with a beaming smile. She wants to be part of the group."
Read more: Meet "Grandma Lena", an adventurous 89-years-old grandmother !
Published by the Editorial Staff on