On the 23th of November 2015, Verklizan Group will hold an International Conference on the themes of social alarms, telecare and telehealth, in the Casino Zollverein in Essen, Germany.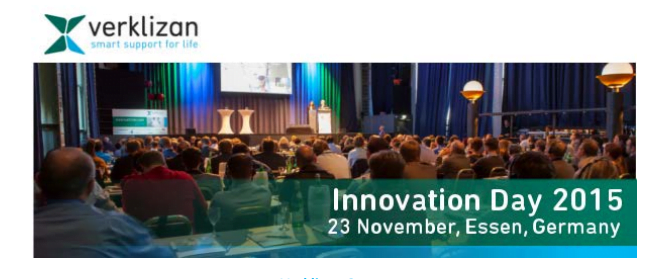 During this 6th Innovation Day, a wide range of providers will present their solutions for the market of social alarms, telecare, telehealth, AAL and security in the same exhibition area.
In 2014, for the 5th edition of Innovation day, there were 300 participants from 13 different countries, which is likely to encourage the coming of several other participants this year.
The conference focuses on needs and expectations of those sectors by offering a global overview of what the sector and its fields of activity are expecting from the future. As the name implies, during this Innovation Day, there will be presentations on innovative technologies as well as best-practice models.
Moreover, the presentations will be simultaneously translated in English, Spanish, French and German, in order to facilitate everyone understanding and to allow the debate concerning key questions and to create future scenarios for these sectors.
The event's video presentation:
Important information:
Location: "Casino Zeche Zollverein" an UNESCO World heritage site
Date: 23 November 2015
Address: Casino Zeche Zollverein Gelsenkirchener Str. 181 45309 Essen, Germany
Contact: Sara Di Prato / Tel : +49 (0)2137 927955
Published by the Editorial Staff on