On 27th, March 2015, Carer+ organised an international conference regarding the use of technologies in homecare services. The meeting took place in Paris, Palais de Luxembourg.
CARER+ International Conference, on March, 27th in Paris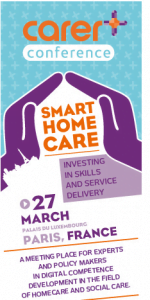 Two weeks ago, Carer + organised an international conference where experts and researchers met in order to promote digital development in the fields of home care and social care. Representatives from all over Europe joined this program and presented their progress. This meeting had two objectives: promoting the well-being at home for the elderly and improving the quality of services of caregivers.
CARER+ project
The Carer+ project's main objective was to give the elderly the possibility to live an independent life in their own home for as long as they can.
To do so, the project started in 2012, in several countries: France, Spain, Italy, Latvia and Romania. The experiment is supposed to create a digital environment in order to improve the personal life of the elderly as well as the professional life of the caregivers. Various solutions are proposed, from a common tablet (Google Nexus7, iPad,…) to more specific applications measuring neurological functions of the ageing adults.
That way, caregivers improve the quality of their job performance with new social and accompanying features. Meanwhile, the elderly have new means of communication with their families or friends. A new bond is created between the older person (the employer) and the caregiver (the employee): that bond is reinforced with this social link and cohesion factor.
Developing the caregivers' digital skills in order to improve the elderly's domestic quality of life

The project's first concern is innovation, social link and intergenerational learning of the caregivers to allow a better autonomy at home for the elderly.
On one hand, the learning of the new Information and Communication Technologies (ICT) allows the caregivers to improve the quality of their job by bringing a higher quality support. Moreover, these digital skills participate in the reinforcement of their employability and their own social inclusion.
On the other hand, the elderly benefit from new ways of communication with their family and their environment. The relationship with their employee and their social links will be strengthened thanks to ICT's.
The project's key results are:
Digital baseline skills are given to the caregivers,
Learning online units are available in six languages,
A learning platform and social networks, which aim to form better trained staff for each participating country,
An evaluation report concerning the experimentation impact, analysing the ICT's introduction in people houses, and the use by both parties: the caregiver and the elder person,
A user's guide for an easier use of tools and resources.
Published by the Editorial Staff on