Many people are still wondering about the abilities of the elderly to drive a car. In that regard, a quite interesting solution has come directly from Japan. Would the French culture be receptive to this solution?
Senior Citizen Mark
Do you know about the Senior Citizen Mark? This symbol decorates Japanese cars driven by elderly people. It is a common sticker (also available as a magnet), halfway between "Baby on board" and the French "A" for young drivers.
The Senior Citizen Mark draws the attention of other drivers so they can adapt their driving attitudes when elderly people are on the road.
Using this sticker is not only a way of being polite and respectful among the other drivers, but also a legal obligation. It is recommended to stick it on the elderly people's car after their 70th anniversary, and mandatory as soon as the driver is over 75 years old.
The non-compliance of this law may result in a fine of a maximum of 20,000 yen, which is almost 200 euros.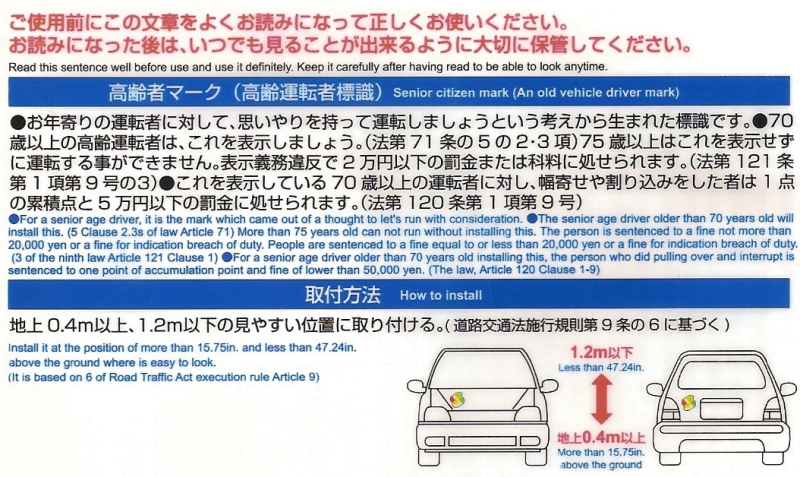 A mark for the elderly: Stigmatisation?
Could this be a viable solution in France? Apparently not. Regardless, the solution looks premature, especially without further additional explicative messages. In Japan, this very popular sticker is considered a call of goodwill ("I am no longer young, so be careful with me"); in France it would be perceived as a warning call (" Danger: I an old and dependent").
Imagine the impact of this type of sticker in France.
It is easy to imagine all "elderly people rights defenders", so-called sociologists and other anthropologists looking for fame making a big fuss about the stigmatisation of old people.
How can we see it more like a sign of respect?
Senior Citizen Mark can remind us of the Chinese yellow bracelets that are used in case of memory loss problem, or the French "Old people umbrella", which aimed to equip the elderly of the Department Seine-Maritime with fluorescent strips to make them more visible.
But before even considering the Senior Citizen Mark as a sign of respect and amiability, society should start changing its attitude regarding the ageing process. Aren't we all going to grow old ultimately? As Richard Lefrançois says, we are Homo Senectus.
Respect or stigmatisation?
As you might figure it out I am in favour of the importation of such concepts in France. Nevertheless, concerning the Japanese Seniors Citizen Mark, I am thinking of "adapting it": indeed, paying a 200 euro fine may seem too drastic.
And still, the debate is open: are you FOR or AGAINST this measure? Your opinion counts!
Published by the Editorial Staff on