Samsung group is well-known for its prowess in construction and high-tech industries. Recently with its new technologies and medical devices offers, Samsung has placed itself as an innovative actor on healthcare sector.
Samsung Smart Healthcare

Samsung Smart Healthcare is a B2B division dedicated to Health Medical Equipment (HME) designed for health professionals. Samsung offers imaging equipment, dynamic display screens, tablets or printing system which aim to:
Refocus the healthcare staff role: thanks to new technologies which allow the medical staff to lean on a secured and qualified information and equipment. Indeed the brand wants to give all the essential tools for hospital staff in order to work easily and safely.
Improve the relationship with the patient: Samsung offers services allowing to personalise the patient's health care and improve their hospital stay.
Allow a patient's monitoring outside the hospital to facilitate healthcare professionals' work. Samsung works with their partners to find solutions thanks to connected objects for a better domestic healthcare.
Jean Hwan Kim is a B2B Solutions Manager on Samsung Electronics. He reported that the group has a lot to bring to the healthcare sector by sharing its very wide skills in R&D for new technologies. He said "Our communication or dynamic display technologies, adding our experience concerning mobility, are completely integrated in healthcare practices. The main goal is to improve medical patients care. We have the capacity to create a synergy of all these technologies inthe healthcare service".
Furthermore, the habit to use and to trust the brand in daily life facilitates its integration with the medical staff.
Samsung: A major player in future telemedicine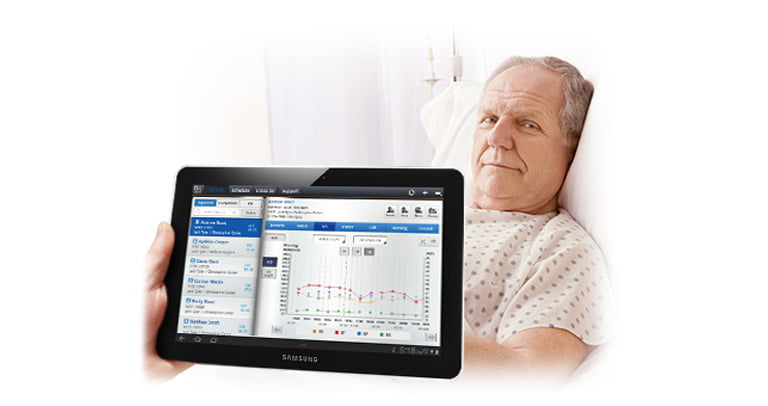 To facilitate the access to health care from home, Samsung tries to help patients making their own diagnosis thanks to connected devices and multi-screens video conference systems. These generate information that is directly recorded and immediately visible to the medical staff.
Jean Hwan Kim announces that "These technologies are already applied in business sector and they could be completely adjusted to healthcare thanks to adapted solutions".
This strategic positioning gives the group a huge opportunity to innovate, to advise and to accompany the medical core and overall to improve the care given to patients on a daily basis.
Published by the Editorial Staff on