Wordwide, elderly people are more likely to commit suicide than others. Yet, it is no longer the case in the UK.
Over the last few years, the suicide rate among the elderly has indeed fallen sharply.
Suicide: an optimistic tendency among the British elderly population
Over the last century, elderly people have been continuously affected by several external factors, which could lead them to taking the ultimate leap and their own lives, thus becoming the most exposed group to committing suicide. For instance, in England and in theWales during the Great Depression, no less than 50 per 100,000 men aged 65 took their own lives.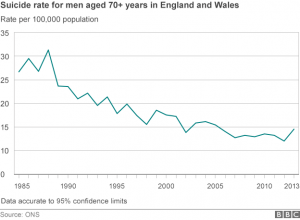 In 2013, according to the latest news published by the UK's Office for National Statistics (ONS), the suicide rate among the elderly dropped at 14.5 per 100,000 among men aged 60 to 74.
Regarding women of the same age, the figures are looking even better: 3.9 per 100,000.
In exchange, middle-aged men are considered to be a population at risk, feeling more likely to take their own lives.
Researchers and specialists are trying to find the right answer to what could be the main reason for this significant drop.
Published by the Editorial Staff on