A life-time love can be immortalized through a picture. Finding the love letters of her grandparents was inspiring for Lauren Fleishman. As a famous photograph artist, she has done a photo shoot with elder couples to talk about their touching love stories… The artist was inspired by her grandparents' story, which gave her the idea of this project. She met 8 "old couples" who have been in love for many years.
Old people – young love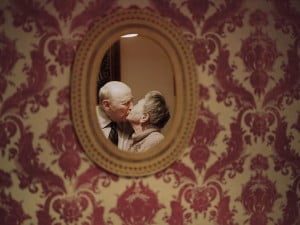 Through eight different shots, eight love stories are presented. Each and every one is different and captivates the audience by its sincerity and honesty. The main purpose of the photographer is to draw attention on a contradiction: old people – young love. Although time may be ruthless and may change a person over the years, it passes by without leaving marks on a true love story.
For instance, Leila confesses that she does not think about getting older, but rather about spending her time with her significant other. Finding the right path to walk together hand in hand over the years might be difficult; but in case of success, the right recipe might be sacred. In that regard, Yaakov is not willing to reveal his own love story.
We invite you to discover all the love portraits that Lauren Fleishman gathered on her website in order to express herself on this new project.
Published by the Editorial Staff on