Like many other Asian countries, South Korea's population is ageing rapidly. In the next few decades, the financial burden of retirement threatens to become crushing. 
In ten years, two young South Koreans will support one elderly person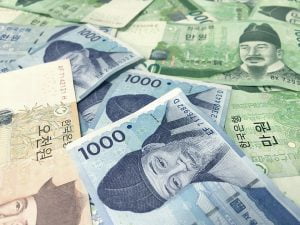 In 2013, three young Koreans (aged 25 to 49) working growth-driving jobs supported one senior aged 65 and more, according to figures published by the UN and Statistics Korea. In South Korea, the labour force is made up of 19.7 million people aged 25 to 65, whereas the elderly population (aged 65 and more) stands at 6.1 million. By 2023, two young Koreans will support one elderly person.
The UN already predicted that by 2060, the financial burden of young South Koreans will exceed that of the young in the United States, Japan, Germany and the United Kingdom, despite the fact that all of them are well into the demographic transition.
South Korea takes steps towards adapting society to ageing
The situation calls for drastic measures, and South Korea has already assigned a department to their implementation. Kang Min-Kyu is head of population ageing policies at the Korean Ministry of Health, well-being and family affairs ; he declared that his department were contemplating two measures to ease the financial burden of population ageing: increase the age of retirement, which is currently 55, and take steps towards senior's employment.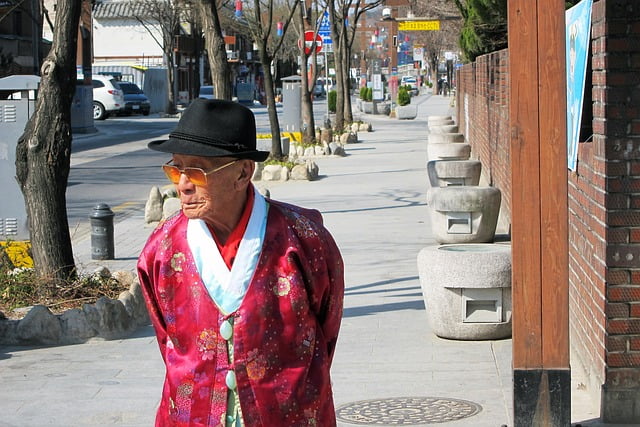 The South Korean demographic crisis is not restricted to finances; it is a social crisis as well.  In South Korea, as in many other Asian cultures, families used to live under the same roof, up to several generations. This guaranteed that every member of the family would be cared for. For several decades, Korean society has went through the same evolution as its neighbours : its people have been growing richer and more educated, and young adults generally move out of their parents' house fairly quickly. They usually work full time, which leaves them with precious little time to visit their ageing parents. Kang Min-Kyu said that he planned to organise training sessions aimed at teaching future retirees how to keep themselves entertained, busy (by volunteering, for instance), and healthy, the bottom line being to foster autonomy among seniors.
Another solution to this financial dead end is to foster women's employment. According to estimates, Korean men only spend 30 minutes per day doing house chores, while European men will dedicate as much time as 2h30. The natural consequence is that many women are unable to handle full-time jobs, which accounts for the low percentage of South Korean working women (only 50%). All of which means that South Korea is currently missing half of its potential labour force.
Is Asia the oldest continent?
Ageing doesn't only affect South Korea's population. In a report published in March 2015, the World Bank expressed concerns about the state of affairs in Asia: a third of people aged 65 and above are found in Asia, and the organisation fears Asian economies might not be able to hold their own against the tidal wave of changing demographics. It called for "womb-to-tomb policies [in order to] tackle labour force decline and higher public spending".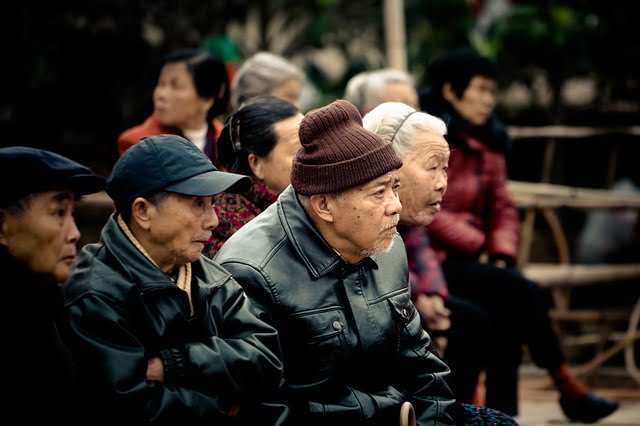 Ageing affects all Asian countries, but not quite in the same way. They can be divided into three categories, according to where they stand in the demographic transition:
Rich countries well on their way: the elderly already make up a significant part of their populations, and this trend will only get stronger in the coming decades, according to experts. Japan and South Korea fall under this category.
Less developed countries which are rapidly growing older: the elderly make up 6% of their population. Among them, China, Thailand and Vietnam.
Relatively young countries, such as Cambodia, Laos, the Philippines and Burma. They're expected to start transitioning within the next two or three decades. The elderly only account for 4% of their populations.
The World Bank also remarked that an increasing number of seniors live alone in ageing Asian countries, most particularly in cities, adding the isolation of seniors to the list of challenges those countries will need to face. In Japan, isolated seniors often live precariously, while China has already taken steps towards taking better care of its older citizens.
Published by the Editorial Staff on