Gigaset launches G-tag in order to minimize the risk of losing important items (keys, wallet, sports bag, the youngest child stroller …) and to allow users to find them easily and simply thanks to an application.
It is a Bluetooth 4.0 beacon which allows to localise the object to which it is connected in a very short period of time.

Finding objects easily thanks to Gigaset's G-tag "radar"
The Gigaset's G-tag is a precise and intuitive application that can find the nearest lost item rapidly thanks to an icon which changes its colours depending on whether the person is near or far.
This solution is perfect for people who tend to leave their keys or their wallets in the middle of the sofa cushions… as well as people who forget where they put their glasses or the remote control.
When the user is outside of the emission field of the G-tag's Bluetooth, they immediately receive a sound notification on their smartphone as a reminder: that way, they can come back to recover the "G-tagged" object.
If you get out of the G-tag Bluetooth's emission field for a long moment – moving away from your car after being parked for example – in this case, you can easily find your location thanks to the G-tag application. Indeed, it regularly registers the last GPS location of the beacon and displays it on the map.
G-tag, the connected simplicity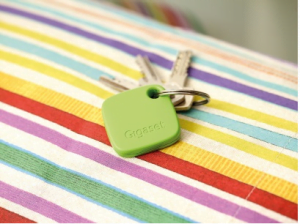 The G-tag application is free for Android and iOS: it allows a quick and easy interconnection between the little Gigaset's Bluetooth beacon with the smartphone.
Due to the low energy Bluetooth 4.0 consumption, the Gigaset G-tag's built-in battery has a lifecycle which can last as long as a year and can easily be replaced.
Sébastien Journard, Gigaset France President comments: "all of us are wasting time looking for daily items as our keys or our purse. At Gigaset, we take advantage of our capacity to develop innovative, simple-to-use items in order to design the G-tag and to allow everyone to solve this problem. So the G-tag allows you to keep contact with your favourite items via your smartphone. This is a concentrate of technology hardly bigger than a €2 coin. It will become essential on a daily basis!".
German G-tag video presentation
The Gigaset's G-tag exists in 5 colours: black, white, red, green and orange.
It will be available on next February, 7th, at the following prices:
Unit: €19,99
Packed by 3 units: €49,99
Packed by 5 units: €79,99
The G-tag's technical characteristics
Dimensions (W x l x h) : 37 x 37 x 9,2 mm
Weight : 12 g
All the functionalities of the G-tag application :

Localisation of the G-tag beacon
The last position GPS is registered if the item is outside of the connexion's field
Reminder function
Grouping function
Push notifications
Sound alert configurable for notifications

Compatible devices

iPhone 4S, iPad 3, iPod Touch (5th generation) or ultimate version with iOS 7
Basic functions are provided by the smartphones under Android 4.4.2. Full functionalities are available on the Samsung Galaxy (S4 & S5) as well as the HTC One (M7 & M8).
Published by the Editorial Staff on