Argus II is a retinal implant developed by Second Sight Company, which allows people with vision impairments to regain their eyesight, even though partially. Strasbourg University Hospital recently announced the first implantation of Argus II retinal prosthesis to one of its patients. The surgery was made with the collaboration of the Reference Center Of Rare Diseases CARGO (Ophthalmic Rare and Genetic Disorders) and with the ophthalmic department of Strasbourg University Hospital.
36 new patients should benefit from a similar surgery in the coming next months in France.
36 Argus II prosthesis implantations are scheduled in France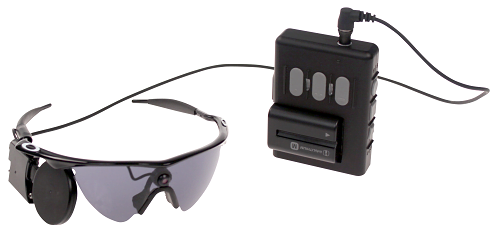 Strasbourg University Hospital recently announced the first implantation of the Argus® II retinal prosthesis (« Argus II ») to a patient who became blind after a pigmentary retinopathy. The surgery was performed by the teams of Professor Hélène Dollfus (CARGO and the Alsace-based Institute of Genetic Medicine) and Professor David Gaucher (ophthalmological department leaded by Professor Doctor Claude Speeg).
Professor Dollfus, president of CARGO's Reference Center Of Rare Diseases says:
"I am very pleased by this first implantation at Strabourg University Hospital. This treatment was conceived for partially blind people who have suffered from degenerative diseases, such as pigmentary retinopathy, and who are willing to start several-month-long eye reeducation."
Besides, Professor Gaucher explains: "The prosthesis activation started two weeks following the surgery and the Argus II system will be progressively programmed for the patient. He will personally use it in the weeks to come and start the reeducation procedure. He will be assisted by Second Sight low-vision specialists and Santifontaine, which is a center of visual reeducation, located near Nancy."
The vice-president of Second Life's European division, Grégoire Cosendai says: "We [Second Life] are extremely delighted about this first implantation at Strabourg University Hospitals. We started planning this implantation several years ago. After receiving the FDA (US Food and Drug Administration) approval in the United States and marketing authorisation for Europe, this step was crucial for both the company and the sight restauration field. It's even more important for patients, who now have a treatment option."
This first surgery in Alsace has a clear objective to promote this procedure as a suitable solution for blind people. In France, 36 patients will get a similar surgery within the next months.
Argus II retinal prosthesis system

Launched by Second Sight Company, the main producer for visual prosthesis for blind people, Argus II retinal prosthesis system aims to partially restore the sight for people affected by several retinal degenerations.
The peripheral retinal degeneration is the deterioration of the outer retinal layer (that is photoreceptors or photosensitive cells) which leads to an increasing disappearance of cells. The pigmentary retinopathy (PR) is the main cause for retinal degeneration: it is a rare inherited disorder which induces a progressive degeneration of retinal photoreceptors and consequently deteriorates the patient's sight; in time, it may even cause blindness. 1.2 million people worldwide are assumed to suffer from such illness.
At the present time, Argus II prosthesis system is present on European markets, but also in the USA: more than a hundred patients use it all around the world. In France, the commercialisation has been authorized since 2011 and it is covered by the French Health Insurance, as an innovation program. It is reimbursed by the French Social Security.
Argus II Prothesis' functionalities

Second Sight's Argus II System produces electric stimulations which allows to bypass dead retinal cells and to stimulate other living ones. It generates a visual perception to people suffering from peripheral retinal degenerations, rather severe or major. Argus II converts the images captured by a tiny camera installed on the patient's glasses into a series of electric pulsations: those are wirelessly transferred to a series of electrodes implemented on the retina's surface.

Those pulsations are supposed to stimulate the last living retinal cells, creating the perception of light patterns in the brain. Then, the patient learns how to interpret those visual patterns, and thus regains some visual abilities.
Second Sight develops Orion, a cortical prosthesis dedicated to patients, whose blindness is due to inevitable or incurable pathologies. Almost 70,000 people are potentially eligible for the next Orion prosthesis.
Published by the Editorial Staff on