The launching event of the French-Japanese cooperation on Innovation and Digital Economy took place at Station F, Paris, on July 13th 2018. It was organised by the French and Japanese governments and JETRO, a government-related organization that works to promote mutual trade and investment between Japan and the rest of the world.
Yoji Mutu, State Minister of Economy, Trade and Industry and Mounir MAhjoubi, Minister of State for the Digital Sector, attached to the Prime Minister, attended the event, which was supported for Japanese and French organisations such as Business France or the Chambre de Commerce et d'Industrie Japonaise en France (CCIJF).
Following the opening speeches of the Japanese and French ministers and the Joint Statement on mutual cooperation exchange, there was an interesting pitching by Japanese and French start-ups such as Cyberdyne, Whill, Snips, etc. There was also big companies such as Fujitsu, NTT Data Corporation or Softbank Robotics who presented their points of view on the Japanese-French business partnership.
Read more: Japan: Elderly people account for 27.7 percent of population
During the event, Susumu Kataoka, Managing Director of JETRO Paris told us that: "Japan is facing a critical challenge before other countries. Japanese government has carried out structural reforms for the last 5 years, with ambitous goals: implementation of autonomous cars and artificial intelligence in medical diagnosis in 2020. Japan is going through a big transformation, so it is time to come and invest in Japan"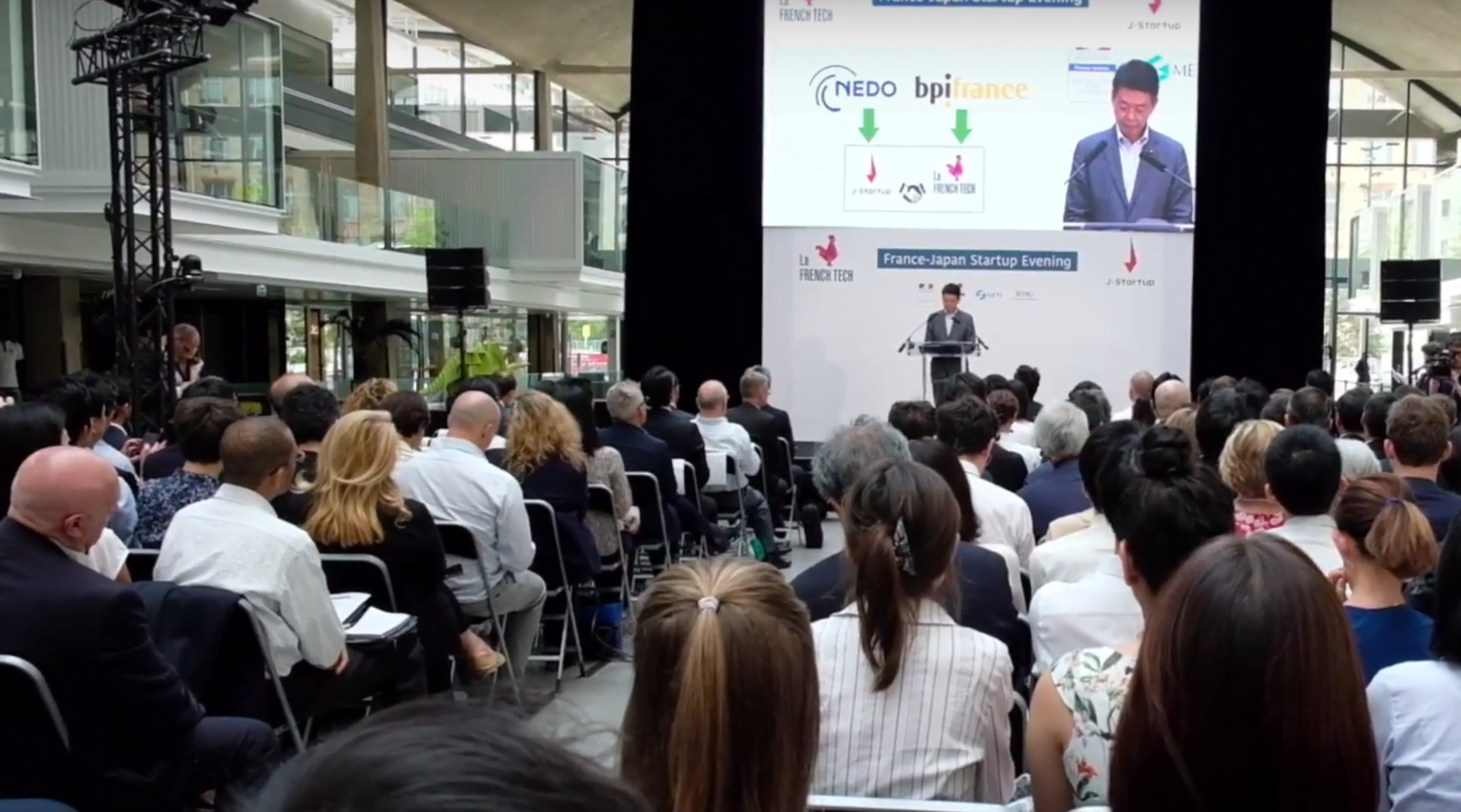 Among the best-known start-ups present in the event, there was CYBERDYNE , developer of the robot suit HAL, an exoskeleton that aims to help elderly people, nursing carers, or even patients with brain and nerve disorders to carry out heavy work.
Yoshiyuki Sankai, CEO of Cyberdyne and Professor at the Center for Cybernetics Research of the University of Tsukuba presented HAL as "the first cyborg product of the world, detecting signal information on cranial nerves and deploying accordingly moves on our body" while wearing the exoskeleton.
Read also: Why service robots are booming worldwide – IFR forecasts sales up 12%
French-Japanese cooperation on Innovation and Digital Economy Highlights
Published by the Editorial Staff on