"Easy buttons" give seniors' life comfort a serious boost : these ergonomic buttons are designed to make it easier for both seniors and disabled people to dress daily. 
It takes seniors three to five times as long to put on a dress shirt
As we get on in years, daily gestures that we used to go through without a single moment's thought can suddenly become challenging. Buttoning up your own shirt is one of those : for people whose motor skills are affected by age and disabled people who can't feel their fingertips, dressing daily can become quite the chore.
Taiwanese designers Han Jisook, Tang Wei-Hsiang and Tsai Po-An recently undertook an investigation to try and figure out the amount of time needed to put on a shirt as an elderly person. They found that seniors take three to five times as long as their younger counterparts to put on a dress shirt. 
"Easy buttons" help seniors dress daily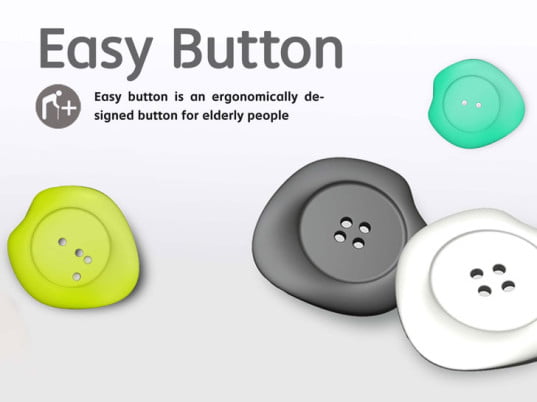 The three designers then set out to find a solution to this problem, and decided to create an ergonomic button making it easier for the elderly to dress. The "Easy button" is oblong shaped ; one side is thinner than the other and slightly curved to foster a better grip. The other side is concave, to make it easier to insert into the buttonhole.
The creators received the 2013 Red Dot design award for this project.
Published by the Editorial Staff on