The Activ84Health platform opens up a window to the world for the elderly by bringing the joy and health benefits associated with cycling outdoors inside to a safe environment.
Each user gets a personalised experience to fit their needs, motivations, and abilities. There is total freedom to explore urban and rural environments. Simply select a street on a map, and then get the visual experience of cycling through that location, all from a stationary bike. We had the pleasure to meet Roel Smolders, CEO of this company…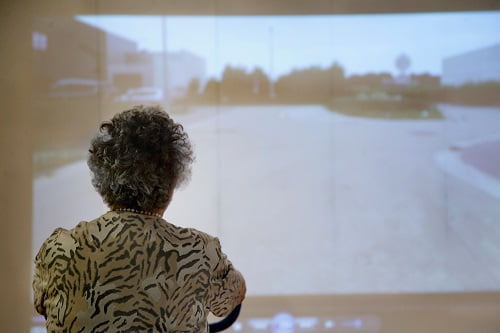 Activ84Health developed a "window to the world for elderly people"
"How can I make it fun and safe for my customers to be physically active?" With this question in mind, Roel Smolders, Director of Nursing Home Witte Meren in Mol (Belgium), explored new options for the elderly inhabitants of his nursing home to keep healthy and independent for longer, through exercise.
Like most nursing homes, Witte Meren is equipped with a physiotherapy room where residents can use various fitness devices to exercise. But the nursing home indoors environment is not very stimulating, as people simply stare at a wall or through a window while doing their exercises. Furthermore, because of restrictions related to old age, outdoor activities are not always an option.
Read more: Belgium, Netherlands, Great Britain: "Elderly people crossing" road signs
History of Activ84Health solution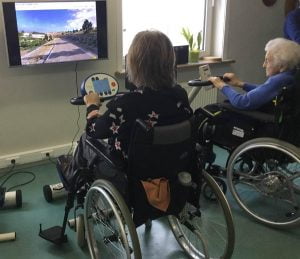 The solution that Activ84Health developed, started as a hobby project by Roel Smolders, his brother Roel, who was working on digital health technologies, and Wannes Meert and Jesse Davis, two IT specialists from the Catholic University of Louvain (Belgium).
A couple of innovation awards and a bit of media attention later, things rapidly got more serious.
In December 2015, the four launched Activ84Health to continue the development and commercialisation of the "Activ84Health Explorer", their system allowing the elderly to virtually explore towns and the countryside while being physically active.
The simulation system relies on Google Streetview, cloud-based software and touchscreen controls. Both the software and hardware were developed so that they are very flexible, easy to use, and can be set up in such a way as to stimulate the physical and cognitive capacities that the user has, without being stigmatizing towards possible restrictions.
SilverEco.eu: How can it help elderly people ?

Roel Smolders: The Activ84Health Explorer is built to suit each individual's needs on how to engage in physical activity. The residents of the nursing home cycle in front of a giant screen. Users can virtually travel to any place available on Google Streetview and can also select a predefined route with automatic navigation, which allows also users with physical and/or cognitive restrictions to have fun and share memories.

Each user has an individual profile, which allows the platform to take into account personal physical and cognitive abilities. If users move quickly, they will progress quickly through a street; if they moves slowly, progression slow down. If the users stop moving, the Activ84Health Explorer also halts and there is time to look around and explore the scenery. And at each intersection, the user can freely navigate and choose his own route. Every exercise session can be fully customized and offers a unique user experience.

Apart from the aspect of physical activity, the core value actually lies in the cognitive motivation and reminiscence. Virtually navigating through the streets of the past, users can chase memories and tell stories about their past while getting valuable physical health benefits.

SilverEco.eu: Why did you decide to participate to this innovation pitch ?

Roel Smolders: Because we use very simple hardware and a cloud-based software solution, it is very straightforward for us to export our technology to other countries. We have currently installed about 30 systems in Flanders and the Netherlands, but are looking beyond our borders to other European countries.

Because our technology is so intuitive and visual, we put a lot of effort to demonstrate our solution and talk about it, because this is the best way to let people experience the value of the Activ84Health Explorer.

The AgeingFit conference for us was the perfect opportunity to for the first time show our technology in France, and it was really well received. We got a lot of interest and great comments from our French colleagues and potential customers. Winning the Pitch Award really was the cherry on top of the cake.

Because our platform is already fully available in French, we would be able to start selling in France today… But we lack a business partner that could work as a reseller or distributor for us, and to work with us on the sales and marketing needs to enter the French market. We hope that winning the Innovation Pitch will generate interest from business partners, as we look forward to bringing our technology to the French market as soon as possible.
Watch the video:
Read more : "For the eldest, 2017 will be about aging well… at home!" Speech of Faissal Houhou, co-founder and Managing Director of RoboCARE Lab
Published by the Editorial Staff on