At 90, American nurse Florence Rigney still works twice a week at Tacoma General Hospital, in Washington. This birthday marks her 70th year of service.
In her 90 years of life, Florence Rigney has witnessed a century's worth of medical advances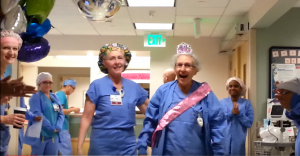 . In 1946, penicillin had only just become widely available, flu vaccines were new, and Watson and Crick had yet to discover the structure of DNA. It was the year Florence Rigney started working at the Tacoma General School of Nursing, then a part of Tacoma General Hospital in Washington.
No rest for the devoted : a lifelong dedication to nursing
On the 8th of May, Florence Rigney celebrated her birthday with her colleagues of Tacoma General Hospital. Washington Governor Jay Inslee paid homage to the US's most experienced nurse in an open letter, calling her "an inspiration to [him] and all Washingtonians," and highlighting the devotion that is the hallmark of her career.
"I love nursing," Rigney said in 2013. "Since I was a little girl, it was something that I always wanted to do."
Bill Robertson, CEO of MultiCare Health System, which runs the hospital, also celebrated Rigney's commitment, saying she "still pursues her lifelong profession with the same energy, focus and careful execution of her duties that has marked her career across seven decades." He also made note of the happy coincidence that decided Rigney's birthday should take place during the American National Nurses Week.
Like Barbara Beskind, a 91-year-old designer, Florence Rigney refused to let her getting on in years hold her back. Is working at ninety the new rage ?
Watch the video : 
Published by the Editorial Staff on