For their 80th birthday, Joe and Kay O'Regans decided to run the Cork City Marathon, in Ireland. On the 6th of June, they  crossed the finish line hand in hand, proving that old age doesn't have to be the end of all physical endeavours.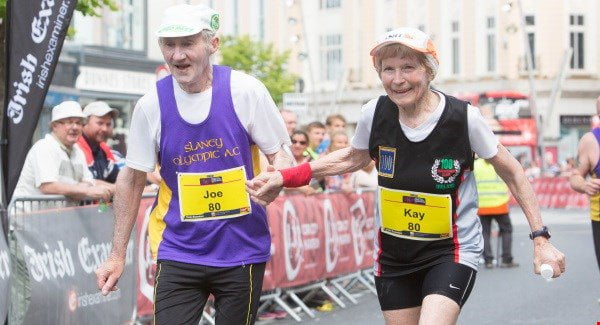 40 years of practice, 133 marathons run
The Cork City Marathon in Ireland is 42.195 kilometers long, and acts as a qualifier for Boston marathon, the oldest among the eight longest marathons in the world. On the 6th of June, Joe and Kay O'Regans crossed the finish line hand in hand, 5 hours 25 minutes and 24 seconds after the marathon began, celebrating their fifty-seventh wedding anniversary and eightieth birthday in a meaningful way.
The Irish couple only took up running at age 49, after their son dared them to go running in the rain with him after they marvelled at his obvious lack of enthusiasm at the prospect of a rather wet rugby training session. Thirty years later, Joe O'Regans has taken part in 29 marathons, while his wife ran an impressive total of 133 marathons all around the world, from Athens to Boston and Norway.
They're not the only seniors willing to go the distance : last year, Harriette Thompson broke the record of oldest participant in a marathon; she was 92 years and 65 days old.
The secrets to ageing in shape ?
Joe O'Regans names one of the few ways they've managed to stay healthy as they got on in years : "We're big into vegetables and fruit. We're not on any medication and don't smoke or drink either. But we'll celebrate with a glass of champagne !"
Could marathons help cure loneliness among seniors ?
When the couple decided to retire in 1977, they joined a running club, where they met most of their current friends. This choice also allowed them to keep in shape : "When you run with people, you're more inclined to go through with it because you made a commitment. You also want to keep up with the group, so you often do a better job than if you were on your own", Kay noted.
Seniors tend to be more and more isolated as they lose mobility. Taking part in physical activities is a good way to foster autonomy among ageing people and can help them maintain a healthy social life, which in turn favours a positive ageing experience.
> Read our in-depth report : Sports and the elderly : benefits and advice for a completely safe practice
Published by the Editorial Staff on