Gigaset has presented a phone especially adapted for elderly people's needs. Combined ergonomics and clever functions make daily use easier: the E550 phone wants to be "the best ally" for seniors, and an answer to all requirements "with great simplicity".

The E550 Gigaset: an easy to use phone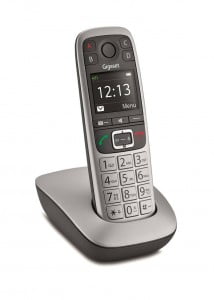 The E550 Gigaset was designed to be adapted for the elderly's needs and for people looking for simplicity in a phone.
It has an easy setup thanks to the "Plug & play" function: say farewell to the traditional annoying manual of instructions and its complicated schema. All you have to do is connecting the phone on the electrical outlet and turning it on to make it functional.
The E550 Gigaset has an illuminated panorama colourised display (1.8") with extra-large digits which guarantees an optimal use even for eyeglass wearers. Moreover, its large keys make dialing easy.
It is equipped with the Gigaset patented technology with an echo canceler that offers a high sound quality. Furthermore, the hand-free function is compatible with hearing aid devices. If necessary, the user can increase the phone volume thanks to the "Audio Boost" key.
The E550 Gigaset has an important autonomy; indeed, the phone can stay 320 hours on standby mode and 14 hours in communication. This autonomy allows users to be easy to contact permanently without constantly having to put the handset on the charger base.
A smart and easy-to-use phone
The E550 Gigaset has multiple practical, smart and simple functions:
Thanks to the optical call alert, a LED light flashes with the call-ring,
The answering machine version includes an SOS function in order to contact the selected person in case of emergency simply by pressing the key, such as the doctor or a close relative.
The phone has 4 keys for a direct access with relatives. The 4 keys allow the user to create shortcuts for 4 chosen contacts and to call them by pressing the button.
The E550 Gigaset's technical specifications:
Colourised and backlit display, 1.8" TFT resolution 128 x 160 pixels 5 lines.
Display large characters
High Quality – Patented technology HSP ™ Gigaset
Hands-free mode, very strong HDSP ™ sound – Compatible with Hearing Aids
200 contacts' directory
Illuminated and precise Keyboard with large keys
Large font size for Better readability
4 memory keys for a direct access
A calls' visual indicator (LED)
SOS key (on the answering machine)
Silver colour
volume control
Audio Boost key
Alarm with "repeat" function and multiple choice of melodies
Autonomy: 320 hours on standby and 14 hours in communication
ECO DECT modes
Recommended public price:

E550 Gigaset: €59.99
E550A Gigaset (with integrated answering machine): €79.99
E550H Gigaset (with an extra handset): €59.99
Published by the Editorial Staff on