During the last few days, the European continent has known one of its hottest heat waves ever. The Red Code of Heat Alerts has been launched in several countries of Southern and Eastern Europe until today.
Code red is the highest level on the four-color hazard scale adopted by national meteorological services in most European countries.
Given the catastrophe caused in 2003 by the last heat waves, governments now take preventive measures to prevent deadly consequences. All the media speak about it and give preventive actions and right things to do during this period. According to the United Nations,an estimated of 30.000 Europeans (14.000 in France alone) have died during a sole heat wave, making it the deadliest natural disaster of the past 50 years in Europe.
In France, Météo France (the national weather service), had put 47 regions on Orange Alert after several cities hit high-record temperatures.
One of the hottest summers ever for several European cities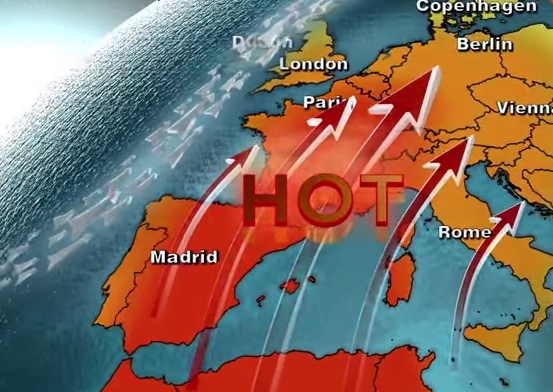 Last week, heat records were toppled in some parts of Spain. Madrid set a new temperature record on Monday 6th, reaching 39.9 degrees Celsius (103.8 degrees Fahrenheit), exceeding the previous July record from July 24th, 1995 (39.5C). They also set a June record last Monday, on the 29th o June, reaching 39.7 degrees Celsius (103.5 degrees Fahrenheit).
In Cordoba, in southern Spain, the temperature reached 45 degrees Celsius (113F) on July 6.
In Kitzingen in Germany, on July 5, the temperature has risen to 40.3 degrees Celsius (104.5 degrees Fahrenheit). It's Germany's all-time heat record following the previous heat wave from August 2003 and July 1983.
In western Poland temperatures reached 36 degrees Celsius (about 97F) and in Plzen-Mikulka, in Western Czech Republic, the temperature topped out at 37.8 degrees Celsius last Sunday.
In Southern Sweden, the temperature pushed the 32 degrees Celsius (89.6F) last Sunday.
In England, on the 1st of July, the heat wave made records, not only in London but everywhere in the U.K according to the U.K Met Office. The temperature has reached 36.7 degrees Celsius (98.1 degrees Fahrenheit) at London's Heathrow airport the last week.
In Paris, July began with a high heat wave, with a temperature close to 39.7 degrees Celsius (103.5 degrees Fahrenheit): it is the second hottest reading there dating to 1873.
On Thursday, 30th of June, in Maastricht, in the far southeast of The Netherlands, the temperature rose to 38.2 degrees Celsius (100.8F), a new national July heat record.
This heat wave has spread also to the East of Ukraine, Moldova and Romania.
Unprecedented heat waves for a short-term period
Fortunately, by the end of this week, a cold front will bring some fresh air and put an end to heat waves in several European countries. Across England and Wales heavy thunderstorms are expected and will spread northwards towards Scotland. Moreover, localised flooding and showers of hail are expected as well.
But not everybody will be relieved from the heat though; in Spain, in Madrid more precisely, the temperature stay near 40 degrees Celsius (104 degrees) for a few days.
Published by the Editorial Staff on