According to the latest statistics revealed by national authorities, life expectancy in Singapore has risen by 10 years over the last 3 decades, from 72 years in 1980 to 82 years in 2010. The number of the elderly will triple up to 900,000 by 2030, and the working age population will shrink.
Facing this demographic challenge, national Government rely on robotics and on a "right system of the healthcare".
A demographic transition
Singapore' population is getting old. Despite a slight rise registered this year by the country's population, in the future, the population will eventually shrink, especially due to the low birth rates and the lack of consequent immigration.
Moreover, life expectancy in rose by 10 years over the last 3 decades, passing from 72 years in 1980 to 82 years in 2010.
All in all, these factors will eventually lead to an increasing number of elderly people: their number will triple and reach 900.000 people by 2030. In contrast, the ageing population proportion will sharply shrink. Today, there are 6.3 working people for each citizen aged above 65, in 2030 there will be only 2.1 working age people for each elderly citizen.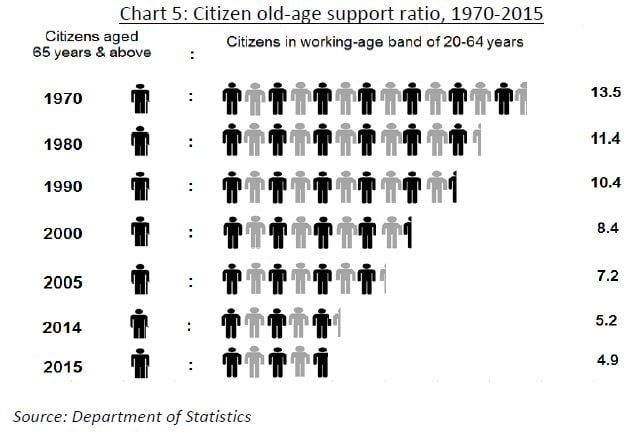 Robotics come as an answer
Facing this demographic transition, the Singapore's government found the answer with robotics. Following the example of their Japanese neighbours, for whom tigh-tech, robotics and demotics are getting more  designed for the use and benefit of the elderly, Singapore tends to do the same thing.
For instance, Robocoach is part of a project that aims to bring close together people aged above 50 and the latest technology. Robocoach, as its name specifies, it is a robot-coach, teaching a group of elderly to do regular physical exercise.
This "automatic" coach was particularly well received by the group, and it has been successfully engaging seniors to do their routines exercises correctly.
As people live longer, the natural consequence of this phenomenal is that people will want to stay as long as possible in their homes, completely safe and secure.
SHINESeniors (Smart Homes and Intelligent Neighbours to Enable Seniors) aims to provide a solution to this developing issue. It is a project which aims to deliver more effective means of community care services through ICT, so that the elderly have the opportunity to remain in their homes. It is orchestrated through the iCity Lab at the Singapore Management University.
A sustainable healthcare system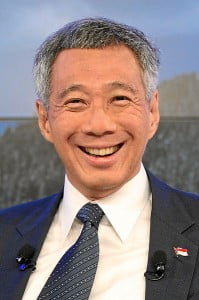 Health system is one of the best advantage facing this demographic transitions: Singapore has one of the best healthcare systems of the world. 
The Prime Minister Lee Hsien Loong noted that despite spending less on healthcare than other countries, Singapore has better health outcomes in terms of infant mortality, longevity, medical coverage and waiting times.
He declared earlier this month that healthcare facilities must however be expended and upgraded, in order to insure the services quality.
Facing a growing healthcare need and demand, he said that more hospitals and care facilities are needed, especially due to the increasing patient numbers. Ever since 2010, the Government has been steadily expanding and building hospitals, nursing homes or eldercare centres.
All those constructions and measures are an important part of the Healthcare 2020 masterplan, adopted by the Singaporean authorities in 2014.
Published by the Editorial Staff on