Tecnisa decided to create the first private building dedicated to receive elderly people in São Paulo in Brazil. This building, called "Senior living" will be part of "Jardim das Perdizes", a real estate project inaugurated in 2013  by the company.
Explanations…

"Jardim das Perdizes", a real estate project inaugurated in 2013 by Tecnisa
This project is the company's most important one in São Paulo. It's a new modern district, a reference in terms of quality of life!
Watch the video:
Jardim das Perdizes by Tecnisa: some figures
Employees (actual/peak): 1.700 / 3.000.
Workers (own): 600
More than 100 thousand meals per month
More than 12 thousand doors
More than 3 thousand sand trucks
More than 112 thousand m³ of concrete poured.
More than 7500 ready-mixed concrete trucks – 40 trucks per day
Forecast: 380 thousand m³
More than 15 thousand tons of steel used in structure.
Forecast: 48 thousand tons of steel
"Senior living": a building to receive independent and semi-dependent elderly people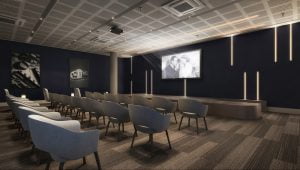 "Senior living" is the future part of "Jardim das Perdizes" dedicated to receive independent and semi-dependent elderly people, and projected to respect the accessibility standards and definitions of ANVISA (health regulatory agency of Brazil).
The guests will have the possibility to count with health activities with specializing professional and a premium health assistance. The objective is to provide an active life and promoting the interaction.
The project will be managed by a 5-stars hospitality brand and the medical services will be provided by the reference in hospital group in Brazil.
Above 384 apartments will be available (30 m² to 55 m²) with common areas and activities, such as Gym room, Restaurant, Industrial kitchen, Laundry, Hydro gymnastic, Art therapy, Movie theater…
Interview of Fabio Villas Bôas, Technical director
Could you please present Tecnisa?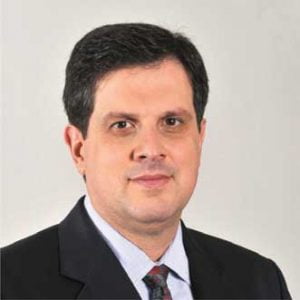 Of course! Tecnisa is one of Brazil's most profitable developers and has one of the largest net margins in the sector. With over 39 years of experience in the Brazilian property market, we are equipped with a complete business platform, which enables us to operate in all areas of the real estate development sector.
Our fully-integrated operation focuses primarily on the residential market, encompassing all project stages, from land acquisition, through development and sales to construction.
Our company is also recognized as the most innovative company in Real Estate in Brazil. Tecnisa invests to create a culture of innovation to develop high-attractive unique products, optimize the construct process to reduce the cycle and provide outstanding experiences to clients and stakeholders.
For example "Fast Dating" is an innovation process created by Tecnisa: any company has the opportunity to show its ideas, products and services. To optimize and organize agendas and to offer the same conditions for all participants, 10 minutes presentations are accepted. If any good idea shows up, another meeting will be organized, without the clock ticking.
Why are you interested in the "senior housing"?
We decided to target the elderly because we observed that Brazil has the sixth largest elderly population in the world; the 60+ population has grown from 3 million in 1960 to 7 million in 1975 and then to 15 million in 2002. So, there is really something to do.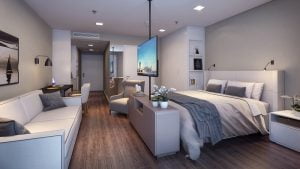 Nowadays this target invests € 7,7 billions in the local economy per month. With life expectancy rising widely in Brazil, old age is no longer the final phase of life, they are full of energy, they still work and have many plans for the future.
Anyway, for us, they cannot and should not be called "elderly". They are physically and mentally well and have an active and independent life.
Why is it positive for you to participate to this meeting day organized by Business France today?
We don't speak so much about Silver Economy in Brazil, but it will soon begin because today, we have projects and initiatives around this topic.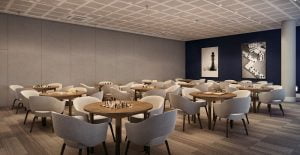 For us, France is one of the best places in the world to get ideas dedicated to elderly people, especially in senior living rooms. So we contacted Business France in order to see what French companies were doing and to learn things from this culture. This is the fastest way to do best things!
What is you opinion about robotics?
We still don't have robots in Brazil, except some solutions for cleaning places. I don't think that it can work there for the moment, because we are a Latin population, we keep our families close. Robots might be a solution for security for sure, for helping people but definitely not for replacing somebody.
Published by the Editorial Staff on