Dogs, cats or goldfish are common pets for the elderly; one British care home changed that formula by suggestions adopting feathered animals, in order to fight loneliness and isolation.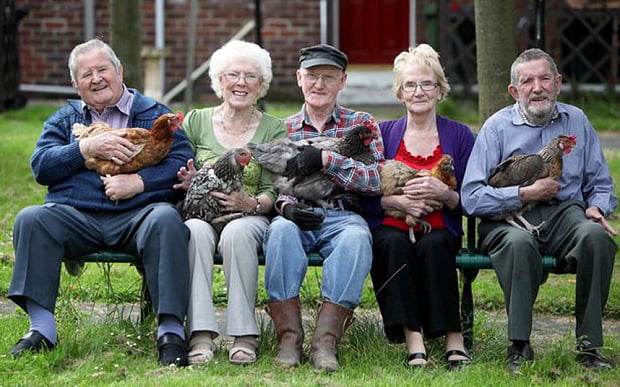 This idea "of HenPower" came from creative ageing charity Equal Arts to tackle social isolation, to reduce depression and to improve people's wellbeing.
The project was backed by David Cameron and Boris Johnson and was launched in London for the first time following a successful pilot project in the North East.
"HenPower is an innovative way to help tackle loneliness and enhance the lives of older Londoners," said London Mayor Mr. Johnson, "The capital's older population is growing and it's great that Londoners will now have the opportunity to take part in this valuable scheme."
As desired by Equal Arts, the project was launched in order to prevent elderly people from isolation and to reduce depression. It was also experimented in care homes for people suffering from dementia, to improve their well-being thanks to their feathered pets.
According the Telegraph, there are currently 700 pensioners looking after hens in 20 care homes in the North East.  Moreover, the government gave founds to the ageing charity Equal Arts to roll it out country-wide.
Lynn Lewis, director of Notting Hill care and support housing, said: "We are delighted to be taking part in HenPower and proud to be the first extra care schemes in London working with the ageing charity Equal Arts on the project. It will really help connect our residents through a shared interest and creative activities."
The question is: will we see hens in care homes all over the world one day if this animal therapy program contributes on elderly people well-being?
In France for example, companies as Farmili also propose to care homes to host feathered and fur pets for their pensioners.
Published by the Editorial Staff on