The Argus II bionic eye is a retinal prosthesis that allows blind and visually impaired to partially recover sight. Developped and launched by the californian company Second Sight, it is sold on french market since 2011.
French minister of Social Affairs and Health, Marisol Touraine, recently announced the full repayment of the epiretinal prosthesis Argus II.

Argus II fully refunded within the « Innovation Package »
A decree published on August 14 in the « Journal Officiel» now provides full support from french Social Security to refund the retinal prosthesis Argus II, in the context of the « Innovation Package ».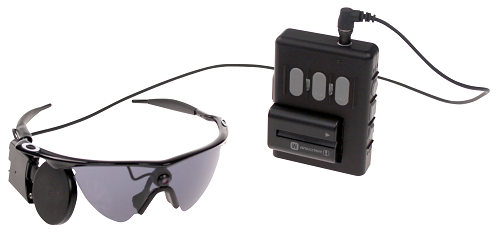 Launched by french minister Marisol Touraine, this initiative aims to support development and speed up the access to highly innovative technologies regarding health.
Argus II is an innovative medical device that allows , through a microship placed in the bottom of the eye, to read letters or sentences, or to discern the outlines of objects.
For now, the chip is made on one eye, controlling binocular vision is still too complex.
Visually impaired patients selected by the High Authority will be able to benefit from the innovation package to get free access to Argus II during 5 years.
Three hospitals will offer Argus II as part of the « Innovation package » :
University Hospital of Bordeaux
"Quinze-Vingts" National Hospital of Ophtalmology (CHNO), in Paris
University Hospital of Strasbourg.
« We have standardized the healthcare circuit for retinitis pigmentosa using a tailor-made system for visually impaired patients », says Grégoire Cosendai, Vice-Président of Second Sight Europe. « More and more countries offer Argus II, and we are glad to set up the process in France too ».
« We are excited about the official announcement of the Argus II funding by the french Health Ministry, and the Quinze Vingt University Hospital can continue to offer this revolutionary treatment to our patients" both declare Dr. Mohand-Saïd and Dr Barale, of "CHNO des Quinze-Vingts" in Paris. « In 2008, we were the first team in France to implement four patients with the Argus II retinal prosthesis system in a clinical trial, and see the benefits for people who previously had no choice but to go through complete darkness. As it restors some visual functions on blind people suffering from retinitis pigmentosa, Argus II offers a huge hope for improving the mobility and interaction with others and thus reducing the isolation often experienced by blind people. Patients really expect our treatment, and we are pleased to offer them soon »
« As a geneticist and ophtalmologist, I can tell you that the RP is very difficul to live with, and robs patients of their sight gradually, often starting during childhood », adds Pr. Dollfus (MD, PhD) from the University Hospital of Strasbourg. « In addition to having to deal with the loss of their sight, patients fear that their progeny can also carry the disease and loose their sight too. Therapeutic development for rare diseases is often a very long process and we are particularly glad we can actually help our patients . »
« With the Argus II, we can finally announce to some of our patients good news and offer them a safe therapeutic approach, designed to grow and that will restore partially their functional vision », explains Pr. Gaucher, responsible for medical and surgical retina diseases, Department of Ophthalmology – University Hospital of Strasbourg. « We are excited to offer this treatment to the University Hospital of Strasbourg. »
« The recent announcement of the Argus II's financial cover made by the Ministry of Health indicates that retinal prosthesis are nowadays moving from the stage of investigation and hope to a concrete medical reality », adds Pr. Korobelnik, Head of the Department of Ophtalmology of the University Hospital of Bordeaux.
«French ophtalmologists will be among the first in the world to offer the prosthesis in clinics for patients suffering from retinitis pigmentosa. We hope that they can be more and more independent, and they find a better quality of life. I am very pleased that the University Hospital of Bordeaux is one of the three centers of excellence promoted to offer the Argus II treatment for patients with retinitis pigmentosa. I hope that additional centers will be opened very soon. »
> Source: Article from Silvereco.fr
Published by the Editorial Staff on