From Tuesday 11th to Saturday 15th of June 2019 a unique tour to discover the Silver Economy "made in Japan" is organised on the occasion of the SilverEco and Ageing Well International Awards.
The Tokyo study tour will take place from the 11th and the 15th of June 2019. This tour is organised thanks to the SilverEco and Ageing Well International Awards ceremony which is taking place on the 13th of June in the Global Business Hub Tokyo. On the occasion, a gala event will gather professionals and business stakeholders of the Silver Economy. An international event to exchange and discover the best Ageing Well and Silver Economy innovations.
The aim of the event
Whether we speak about R&D, Design for All, New Technologies, Architecture, Distribution, Robotics, Leisure, Sports, Marketing (…) the Silver Economy is a large spectrum of innovation.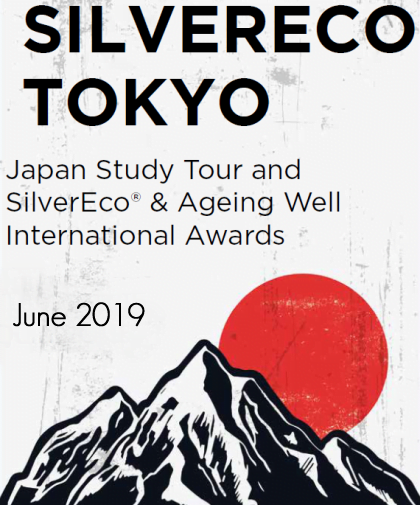 The wide diversity of the Ageing-Well stakeholders, their enthusiasm and engagement towards an active and healthy ageing, their innovations and great opportunities of job creating are testifying to the real economic opportunity of the demographic transition.
The International SilverEconomy's Family will be present in June in Tokyo. Ageing-Well stakeholders and experts are all invited to share experiences, debate during round tables and network.

Join the international delegation and participate to 4 days in Tokyo. Silver economy and ageing well in Japan, the world's first super ageing society.
• Networking
B2B meetings with all the international SilverEco and ageing well decision makers and Japanese companies
• Discover Japanese culture and lifestyle
• Evaluate how robotics and innovations will change our daily lives. Future starts now !
• Change your point of view regarding robots or confirm it…
• Visit the most populous city in the world
Tour Timed Pre Program
From Tuesday 11th to Saturday 15th of June welcome diner, B2B meetings, Visits of the National Council of Social Welfare, SoftBank Robotics, Robo Care Center and Cyberdine, KotoenCommunity, AshaimuNerima Garden, KobaLab, AEON, National Museum of Emerging Science and Innovation, Panasonic Center, Guided Sightseeing tour… And last but not least : A VIP participation to the SilverEco and Ageing Well International Awards ceremony
To know more of our international delegation in Tokyo click on the link here below and contact us:
http://www.silvereco.org/awards/contact/
Published by the Editorial Staff on