On October 15th,  the first International Health and Wealth Conference (IHW) will take place in Algarve, Portugal. It will be the first European conference to link Healthcare and Wellbeing with other complementary sectors, like Tourism, ITC, Corporate Finance and Real Estate. 
What are the needs of "Generation 55+" in terms of Health & Wealth?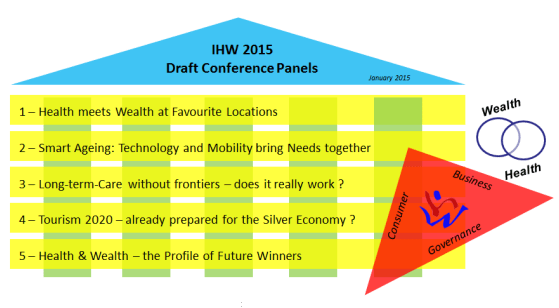 Silver Economy and Smart Ageing will be the main focus of the three days conferences. This cross-market economy rises various questions and debates: the conference's objective to give accurate answers for developing a modern society with healthy ageing in mind.
Modern care solutions are getting more requested worldwide, especially from European countries. The goal of this conference is to analyse countries' needs and to give a true panorama of all corporate finance and private equity solutions, as well as whether they are influenced by the social and political environment.
Other topics will be on the agenda: medical tourism, health and mobility, and what brings them together. Algarve, for instance, has become  the perfect holiday location for the elderly over the past years. French people enjoy spending their summer holidays on the Portuguese shores.
The event has all the chances to be extremely well-received as top speakers already confirmed their participations; shareholders from 141 countries already visited the IHW website.
Reminder!
When: October 15th, 2015 (Thursday) to October, 17 (Saturday).
Where: Algarve, Portugal
Published by the Editorial Staff on