Phonak, one of the leading global provider of hearing instruments and wireless communication solutions, announces a new audiological center of excellence fueled by the Phonak Audiology Research Center (PARC) in Warrenville, Illinois.
The center will be led by newly appointed U.S. Vice President of Audiology Christine Jones, AuD and will serve as the North American hub for independent research as well as ongoing collaborations with a network of top audiology experts and institutions around the globe.
Advancing audiological research
Christine Jones will continue to serve as PARC Director and will oversee Phonak's team of audiologists across a wide range of topics including: Family-Centered Care (FCC), eAudiology, Hearing & Emotions, Pediatric Audiology and Unilateral Hearing Loss (UHL). Phonak's commitment to advancing audiological research will be evident at the American Academy of Audiology's annual AAA 2018 conference, where the company will lead 24 presentations.
Phonak's audiological expertise on display at AAA 2018
In addition to demonstrating several innovative products and technologies at AAA 2018, Phonak will be leading a total of 24 presentations for CEU credits, including:
• 14 Industry Updates
• 5 exhibitor courses
• 3 Learning Modules
• 1 Research Podium
• 1 Mini Module
A new CROS B-R device
Phonak announces the launch of its new CROS B-R device, the company's first Contralateral Routing of Signal (CROS) device with a lithium-ion (Li-ion) rechargeable battery. The CROS B-R provides single-sided deaf clients a smart solution with a rechargeable battery that lasts for one day of hearing from both sides with no battery hassles. It broadens the company's industry-leading portfolio of Li-ion rechargeable hearing solutions on its successful Belong™platform.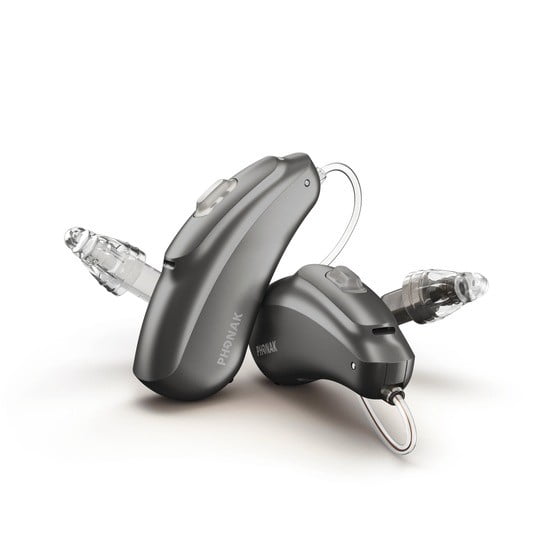 "Losing the function in one ear severely limits a person's hearing on a variety of levels. They can have difficulty determining where an unseen sound originates from, such as oncoming traffic outside of their field of vision," explained Christine Jones, Vice President of Audiology at Phonak U.S. "Holding a conversation in noisy environments is also extremely challenging, particularly when the speaker is on the non-hearing side. That's why we're so excited to introduce our rechargeable CROS B-R wireless device. It combines excellent hearing performance of a Phonak CROS device with the proven benefits of the Phonak rechargeable technology "
The Phonak CROS B-R will be available as of April 23, 2018.
Published by the Editorial Staff on