IPsoft, the leader in Enterprise AI, and GlobalDWS, the international systems integrator and solution provider of innovative technologies, have joined forces to enable Amelia, IPsoft's industry-leading conversational AI solution, on GlobalDWS' innovative service robot platform. The result of this agreement is a new Disinfection Service Robot (DSR) that combines GlobalDWS' autonomous, voice-enabled robot platform with an Amelia-driven COVID-19 Assistant.

The robot is equipped with a high-pressure atomizer containing disinfectant liquid and UV-C lights to effectively eliminate 99.9% of harmful bacteria and viruses from a target area (e.g. floors, desks, doors) while providing COVID-19 risk assessments and information through an interactive assistant. The DSR is now being tested at various senior care facilities in Toronto.
With the current pandemic, thorough and extensive sanitization is key to mitigating the spread of COVID-19. Providing an automated and interactive method of proper sanitization, as well as basic virus screening, with minimal human intervention frees up overburdened health and care workers to focus on urgent and specialized tasks.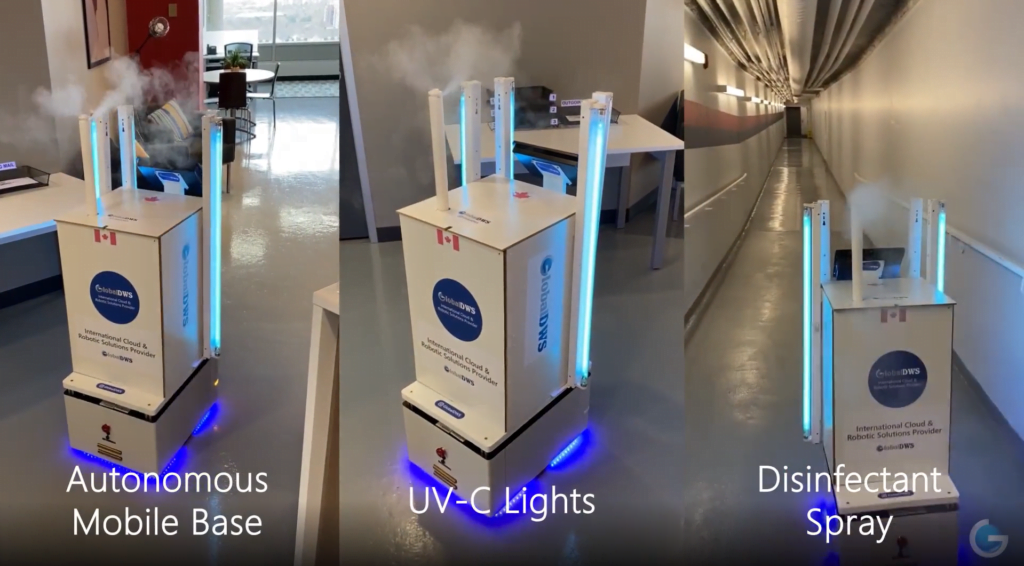 The combination of Amelia's brain, with its advanced cognitive and conversational capabilities and GlobalDWS' fully integrated and intelligent service robotic platforms, has the ability to provide truly intelligent and autonomous solutions for a vast number of use cases in various industries where interaction and collaboration between humans and machines is set to grow and intensify in the near future.
For example, both companies recently have been piloting another use case for AI-driven Service Robots in banks. GlobalDWS has integrated Amelia in her role as a banking concierge with their service robot platform. The Amelia-powered robot, stationed at branch locations, will be able to interact with customers and help them with a variety of requests, such as opening an account, securing a mortgage, applying for a new credit card and more. Conversations can be held by written chat via an interactive display on the robot, or simply by speaking directly with Amelia.
The demand for service robots is growing, with the market expected to top $30 billion by 2020 (IDC, Worldwide Spending on Robotics System, Jan '20). GlobalDWS offers customized, fully integrated and scalable service robot solutions designed to automate manual and repeatable tasks to enhance the user experience, augment workforces, and increase organizations' productivity and resource effectiveness.
Understanding the power of service robots, and their scalability to integrate with Enterprise platforms, opens doors to vast opportunities in business and tech, and creates endless opportunities and use cases in various industries. We're proud to be working with IPsoft to introduce the first service robotic platform powered by a cognitive digital AI colleague and are looking forward to helping communities combat the new coronavirus by deploying Disinfection Service Robots, said Yahya Saad, Co-Founder and Chief Digital Officer at GlobalDWS.
Scott Kohn, Chief Channel Officer at IPsoft, said: We are excited to work together with GlobalDWS to enable another milestone in the creation of human-digital workforces. With Amelia applying her unique capabilities via yet another innovative channel, she can allow organizations to provide superior services to patients, staff and clients. The combination of Amelia's brain and its cognitive capabilities with those of GlobalDWS' physical service robots open up a broad range of use cases that we are looking forward to exploring together.
This solution enables an autonomous and interactive voice assistant leveraging cognitive service capabilities to enhance customer and/or employee experience in respective organizations. Amelia has years of experience in various roles across departments and industries, such as banking, telecommunications, insurance, healthcare and more, where she acts as a customer care agent, an IT Service Desk engineer, an HR assistant and many other roles. Also, she can be trained to efficiently take on any new tasks. Thanks to her self-learning capabilities, she gets better and more competent with every interaction and will proactively suggest new routes for solving a request by observing how those are solved by human experts.
Published by the Editorial Staff on