According to the results of a study published on "The Journals of Gerontology, Series B: Psychological Sciences and Social Sciences" spending time on the Internet helps prevent depression among retirees, especially those who live alone.
In the article "Internet Use and Depression Among Retired Older Adults in the United States: A Longitudinal Analysis", the authors explains that Internet use reduces by 33% the risk of falling into depression .
"Encourage older people to use the Internet can help reduce isolation, loneliness and depression"
Depression affects between 5 and 10 million American aged 50 and over. This new study shows the Internet provides opportunities for older Americans to overcome social barriers and isolation supposed to feed depression.
The research was conducted by Shelia R. Cotten, PhD at the University of Michigan; George Ford, PhD, of the Phoenix Center for Advanced Legal & Economic Public Policy Studies, Sherry Ford, PhD at the University of Montevallo and Timothy M. Hale, PhD at the Center for connected health and the medical faculty of the Harvard University.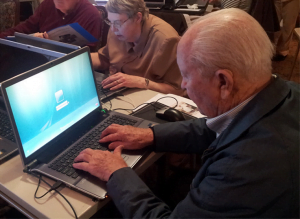 Data were obtained after four iterations of the "Health and Retirement" survey. A campaign of collection of information from more than 22,000 American seniors has been conducted every two years between 2002 and 2008 .
Evaluation of the Internet use was based on questions asked to participants "Do you regularly use the Internet to send or receive e-mails or for any other purpose?" while the depressed state of the participants was measured via an assessment of depressive symptomatology method, "the Center for Epidemiologic Studies Depression Scale."
The authors of the study found that using the Internet reduces by 33% the probability of depression. "This study provides evidence that Internet use is a response to depression, social isolation and loneliness. Encourage the elderly to use the Internet can help reduce isolation, loneliness and depression" say authors.
Published by the Editorial Staff on