Like Doro, Fujitsu or Kapsys, Haier will launch in France a new smartphone for seniors and non-techies in early September.
Easy to use, Easy Smartphone Haier A6 is offered at an affordable price (99 €) and equipped with an emergency call button, to contact family in case of problems.

Easy Haier Smartphone : a simple use and attractive price
Based on the fact that seniors are now increasingly equipped with a smartphone, Haier has developed Easy Smartphone, that can fit to users less familiar with new technologies.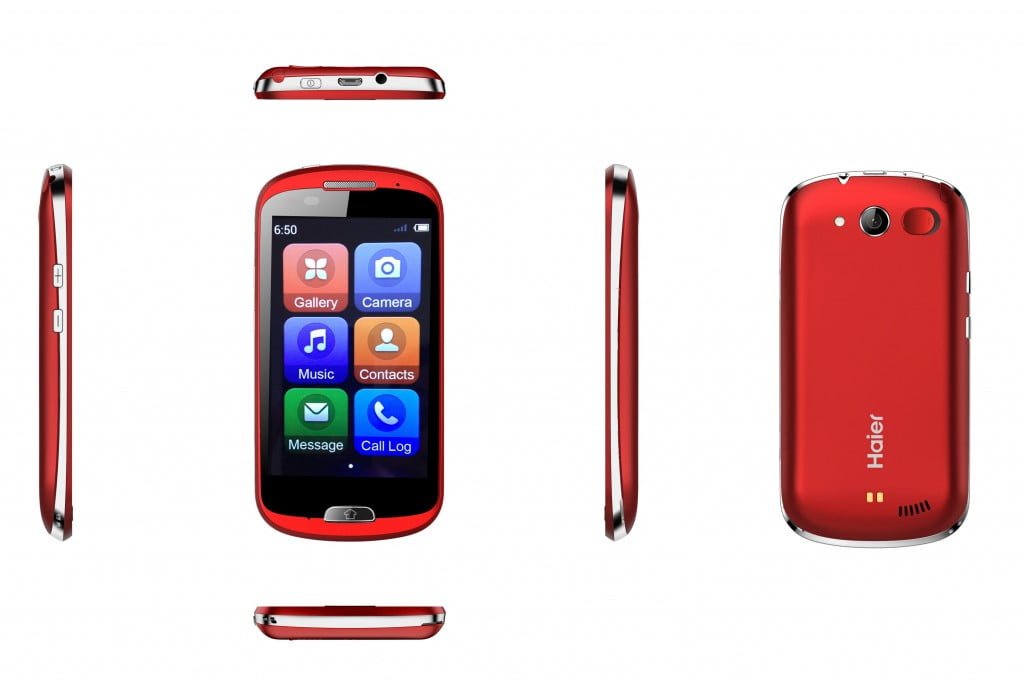 Easy Smartphone is easy to use through its interface (with large icons), functionality and ergonomic :
To call someone, just click on the contact picture on the home page
Its menu only consists of large, colorful and direct access icons to the main functions
Its speaker is ultra powerful for the hearing impaired, radio can be listened without headphones
Simply shake your device to show the explanations of various features
It also has reminder functions, automatic hands-free, and a specific option for reading SMS.
The Smartphone is also equipped with a capacitive stylus for easy typing and navigation.
Finally, the dimensions of 128.5 x 65 x 11.85.mm allow the consumer to easily hold it in hand.
Other featuress:
Display: 4.0 "WVGA (480×800)
Android 4.2
Camera: 2,0 M (inc. flash) / VGA
Bluetooth / WIFI / FM / GPS
Another advantage of this smartphone, its cost, since it will be priced at € 99.
A phone that recharges easily
Easy Smartphone recharges easily without cable. The connectors are becoming smaller : an asset for the elderly who have some difficulty connecting a charger.
To charge the smartphone, simply place it in its base, which is backlit, allowing easy identification at night.
SOS button to warn in case of problems
SOS Smartphone Easy Haier button works as an alarm.
Once it is enabled, the smartphone calls all phonebook and automatically sends SMS until someone picks up.
Where to get Easy Smartphone ?
We contacted Haier France to learn more about the Easy Smartphone, including outlets where the phone is sold.
"Our Easy smartphone is being referenced but should be found in our usual distributors such as Darty", as Haier France explained to us.  "Expectating our first agreement with an operator or MVNO we decided to offer it in open market without subscription".
Haier is considering partnerships with distributors and mobile operators.
Easy Haier Smartphone is successful in China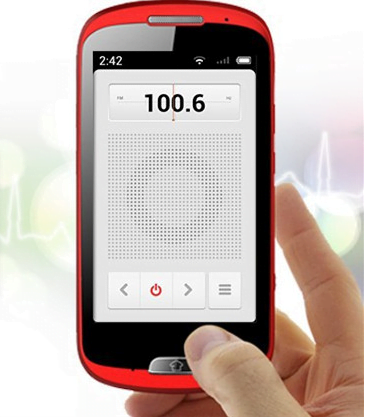 If in France we have to wait until early September to be able to purchase the Easy Smartphone Haier, in China, it is already sold since the beginning of 2014.
There, the Easy Smartphone is very successful among consumers. Hundreds of thousands units have been sold in 6 months. "We hope to be as successfull in France and Europe," says Haier France.
Published by the Editorial Staff on