Doro, a French Silver Economy actor and leader in the mobile telephony sector has begun a partnership with Claria, a French editor regarding digital solutions for visually impaired people.
As a result, two brand new smartphones were launched at the World Mobile Congress, in Barcelona: Doro 820 Claria and Doro 820 Mini Claria. Those two products aim to come as an answer for visually impaired people.
In Europe, there are more than 2.5 million blind people and more than 26 million people suffering from visual impairments. Among them, 90% are over 65 years old. Nevertheless, there are few smartphones available on the market that can answer those people's needs.
As a response, Doro and Claria (formerly called Telorion) launch two new smartphones.

Doro 820 Claria et Doro 820 Mini Claria : two new smartphones
Doro 820 Claria and Doro 820 Mini Claria were specially designed for blind people. Initially, these two smartphones existed, as Doro Liberto® 820 and Doro Liberto® 820 Mini . Their main characteristics remain the same: their ergonomic design, physical keys and high-quality sound.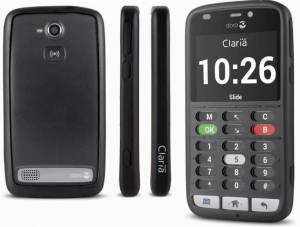 The elastomer keypad protects the phone and makes it easier to use, by creating physical reference points for the navigation keys and the digital keypad. For instance, number 5 key has a button in order to facilitate the key's recognition.
The pre-installed software Claria Vox offers a 100% vocal interface: the user is guided through the utilisation of each function. Furthermore, the camera is like a "smart eye": the Optical Recognition of Characters helps the user to read what it is in front of them. The camera also detects the brightness level or the colors of an item (which may be practical when buying a gift or clothes). Among other specific functionalities, we can point out an e-mail reader, a website reader, a customised GPS and a book reader.
Doro and Claria: the meaningful interaction of two main actors of telecommunication
Loïc Dubié, Claria's creator, says: "We are extremely delighted to announce this exclusive partnership with Doro. Their products quality and commercial force will allow us to boost the international development of our software Claria Vox and consequently, improve the life quality of many blind people around the world."
Doro will take advantage of its leader position on the market and its presence among specialized distributors, in order to launch these new products. The Swedish group received the famous "Stevie Wonder Vision Award" many times and this partnership stands up to this recognition.
Valérie Olek, EMEA Manager, at Doro, adds: "Doro and Claria kept only the positive characteristics of an Android Smartphone, then simplified and adapted them, in order to finally take a real step forward regarding mobile use. Our leading position and our passion to make technology simpler and easier to use, led us to develop suitable solutions for this category of people,who are often neglected. Never mind your age or your visual capacity, it is our belief that all of us should be able to enjoy the advantages proposed by the smartphones."
Published by the Editorial Staff on