Bette Nash has prided herself on for six decades as an American Airlines flight attendant. Indeed, on Saturday, Nov. 4, she has marked 60 years with the airline and industry, and her international notoriety as American's longest serving, most senior flight attendant.
OMG, it's a Bette Nash Jubilee. Follow along & celebrate her 60yrs of service. 👸🏻#AATeam

Snap: @Americanair | IG: https://t.co/8SmPl5aJ4U pic.twitter.com/DW8jUHlvuk

— American Airlines (@AmericanAir) 3 novembre 2017
Bette Nash, a flight attendant for 60 years
Bette Nash was in her late teens when she took her first flight from Reagan National Airport to Dayton, Ohio, on a DC3 aircraft. She said she fell in love with "the spiffy appearances and gracious manners of the crew members." A few short years later, Bette began her own aviation career at age 21 with Eastern Airlines, which would eventually become part of today's American Airlines.
Bette has seen the aviation industry change dramatically over the decades. She began flying when Dwight Eisenhower was President, flight tickets cost just $12 and tickets required no reservation. Bette fondly remembers this era as aviation's golden age, when she flew with the Kennedys and served lobster and carved meats on platters to customers.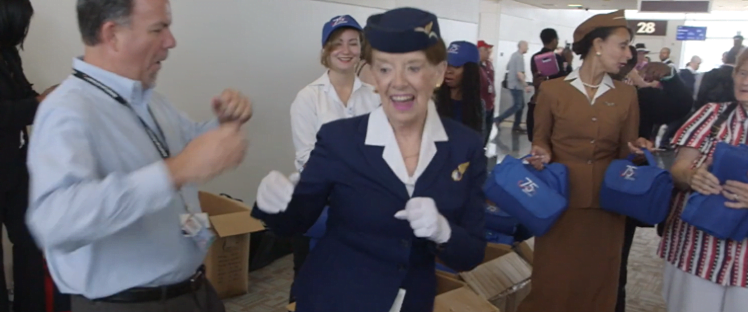 Bette's love of the job
One thing that hasn't changed is Bette's love of the job. She said that her career has allowed Bette to share her passion to serve, meet new people and to give kindness to others. "It's just been the perfect career path. It's given my love of people an outlet, and I like to think I've given good service to others," she said. "I thoroughly enjoy my three-minute conversations onboard. And I'm often amazed at the interesting work, travels and lives people have."
Today, Bette continues to work full-time and flies her regular route service between Reagan National and Boston Logan airports. Reflecting on 60 years of service, she says that she feels incredibly blessed for her good health and a career that has enabled her to live her dreams and take care of her special needs son. "As long as I have my health and I'm able, why not work. It's still fun. Plus, I've at least made my Diamond Jubilee, just like Queen Elizabeth!"
Press release
Watch the video:
Consulter notre dossier : découvrez les mamies à qui on aimerait tous ressembler !
Published by the Editorial Staff on