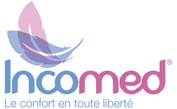 With Incomed, feel comfortable in full freedom
The Incomed team is made of pharmaceutical distribution professionals and professionals experienced in medical equipment manufacturing, as well as online selling of healthcare consumable items.
For almost twenty years, Incomed has dedicated their expertise and creativity in the health field to serve their customers.
Thanks to Incomed's supply chain expertise coupled with the rise of latest communication technologies, consumers benefit from the lowest prices of hundreds of adult diapers conceived by the biggest manufacturers.
Incomed regularly suggests new products necessary for staying at home, in order to improve and ease the daily life of incontinent people.
Contact

Incomed
Entrepôt Haut N°11
92110 CLICHY LA GARENNE

Phone number : 01 75 61 18 53
Mail : info@incomed.fr
Website : www.incomed.fr