Traditionally, when extended families lived together, the elders  would look after their grandchildren, while parents went off to work. It seems that the best solutions often come from the past, at least, in the case of a retirement home, in Seattle. Indeed, at Providence Mount St. Vincent in Seattle put a preschool within a nursing home.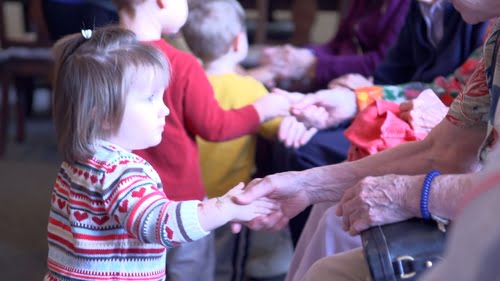 A retirement home where the intergenerational bound is the key
At Providence Mount St. Vincent in Seattle, USA,  intergenerational contact is very important. Called the Intergenerational Learning Center, a preschool is located within the retirement home. During the week, the children and the residents cohabitate and participate all together to all sorts of activities: singing, dancing, art, lunch, storytelling or simply playing and talking.
A retirement home and a kindergarten are perfectly matching together under the same roof. That way, the children have the opportunity to interact with the elderly and to learn new things. On the same basis, the older persons are enjoying the sincere happiness and kindness of the young, which reveals to be a great therapy for them.
This kind of intergenerational project has also seen the light in Europe. Young students have been invited to live under the same roof with the elderly in a retirement home in the Netherlands. It is another way to promote the well-being of the elderly and to encourage intergenerational bonds.
"Present Perfect" – a film to explore the ageing in America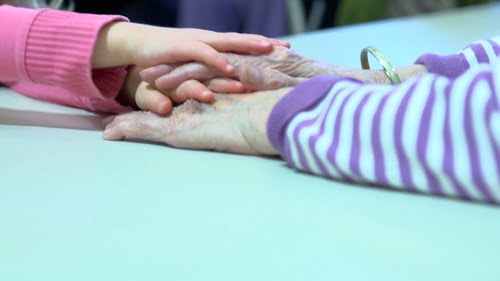 This intergenerational project is the main theme for the film "Present Perfect", produced by Evan Brigg. In this movie, the director captures a very touching and unique experience taking place in the care facility.
The movie is named "Present Perfect" wecause when gathering together two opposite generations – one with a long future to come and another with a long past to share – what matters most is the present. The present should be perfect for each generation, and this is the message the film is willing to pass on.
Briggs said that when filming, she noticed how resident's lives were changed by the young children visiting them: "complete transformation in the presence of the children. Moments before the kids came in, sometimes the people seemed half alive, sometimes asleep. It was a depressing scene. As soon as the kids walked in for art or music or making sandwiches for the homeless or whatever the project that day was, the residents came alive."
Published by the Editorial Staff on