As the world's ageing phenomenon becomes a worldwide challenge, there are numerous projects or initiatives which are being imagined in order to better cater to the lives of ageing seniors citizens.
Every year, SilverEco.fr, the French national portal of the Silver Economy organizes Silver Night. On the occasion, the best products, solutions or initiatives are being awarded with the French SilverEco® Trophies.  

Save the date: 20th of March 2017
The 9th Silver Night edition will be held on March 20 at Folies Bergère in Paris. On the occasion, all Silver Economy stakeholders are invited to discover this year's winners, but also to discuss, network around the challenges and opportunities of ageing population.
The event aims to respond to the ageing phenomenon and to highlight economic opportunities of this demographic transition.
2017 : Ready pour la Silver Night Fever !#silvereco #silvereconomie #trophées2017 pic.twitter.com/cvmgszDLF6

— SilverNight (@SilverEcoNight) 29 septembre 2016
2017 SilverEco® Trophies: call for applications
Entrepreneurs, companies, corporations, public entities and institutions are all invited to apply for this year's competition.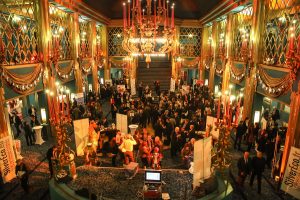 From healthcare to finance, transport, employment, R&D, robotics, all type of submissions are welcomed to participate.
Applications are open until 14th of February. If you want to apply, please check the information form above (in French).
All nominees will be invited to present their projects to a panel of professionals and business representatives from the Silver economy and gerontology field. In a 3-min pitch, the jury must be convinced of the meaning, purpose, feasibility and impacts of the project.
Last year's panel of experts was chaired by Serge Guérin, a French sociologist specialized in gerontology, and it gathered many representatives of the sector. Among them: Afnor, Business France, Cnav, Promotelec, Fedesap, Asipag, CCI France, Silver Valley etc.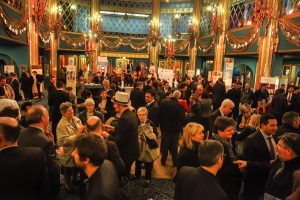 The winners will be revealed during Silver Night, a gala ceremony held at Folies Bergere in Paris. Last year, 1250 personalities were presented and numerous surprises were revealed.
The French Tech was enhanced, as different robots were presented, along with their applications in the field of personal care.  Moreover, during Silver Night 2016 the first crowdfunding life session of the Silver Economy took place, where more than €374000 were invested in live.
Remember the winners of 2016 SilevrEco® Trophies

Best technological innovation: Kompaï, a mobile robot designed to assist elderly people

Best web innovation: FACIL'iti, a solution for digital accessibility, capable to adapt websites to users' needs.

Best product: Unison for Easyson: the first low-cost hearing aid

Best service provider: Les Opticiens Mobiles, optical home care service provider

Best design approach: PICTOME, an innovation helping the elderly to face autonomy loss

Best HR approach: RESPONSAGE, a service helping working caregivers needing assistance and FNAQPA, a global solution for a better living of residents and employees

Best associative approach: ASSOCIATION MEDIAGRAPH which organizes workshops to help seniors use digital tools

Best R&D approach: LOGI VITAE, equip homes with sensors detecting unusual behaviors or environmental changes

Best health initiative: INCISIV, which provides dental care to nursing homes residents

Best housing initiative: NEOVIA which offers solutions to secure bathrooms

Best cultural initiative: the magazine Notre Temps for an intergenerational activity

Best nursing homes initiative: EHPAD YVES COUZY for a cafe shop opened to everyone

Best entrepreneurial approach: POUR ETRE BIEN CHEZ SOI, which coordinates healthcare professionals to meet the ageing challenges on the Island of La Réunion.

Best initiative for caregivers: VACANCES REPIT FAMILLES, where caregivers enjoy their holydays meanwhile their senior relatives are in good care

Best intergenerational initiative: LA MAISON DE ZACHEE, an eco-friendly district on the island of Martinique, focused on intergenerational exchanges, ecology and food autonomy.

Key dates:
February 14th: deadline for submission
February 21st: nominee's announcement
March 7th: Pitch to a panel of experts
March 20th: Silver Night / SilverEco® Trophies Ceremony
Published by the Editorial Staff on