On May 8th and 9th, 2015, the China International Senior Services Expo (CISSE) will take place at the China National Convention Centre in Beijing. It is the biggest Chinese exhibition dedicated to elderly support.
On that occasion, the French Silver economy will be represented at the France Pavilion, which will be held by Business France and the French-Chinese Partnership association.
CISSE's main themes
China leans on private investors and on foreign expertise to implement its supporting policy of the demographic transition thanks to: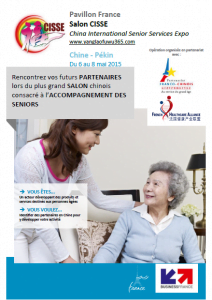 Retirement homes, service residences, home support
Architecture, domotics, home equipment, connected objects
Home care, follow-up care, high reliance, medical support
Nursing staff and social workers training
Products and services dedicated for the ageing-well, prevention, autonomy
Services dedicated to the elderly such as tourism, leisure activities, financial services …
CISSE is organised by major institutional actors in China, aka the "China Association of Social Welfare" and the "China Silver Industry Association". They are supported by the Ministry of Civil Affairs of the People's Republic of China and by the Municipal Committee on Ageing of Beijing.
There were 140 M people over 65 years old in China in 2014

China is still growing and getting richer, but has an rapidly ageing population. People over 80 years old will represent 6,5 % of the population by 2050 (they currently represent 1,9 % of the population).
This situation is aggravated by the weakening of the intergenerational solidarity (because of the one-child policy, changes in mentality, active rural population's mobility).
There is a greater prevalence of many chronic diseases (during the last ten years, there has been an increase of 30 % of senile dementia cases for example).
In 2010, the Chinese authorities have launched the "program 9073". Its main objectives were:

90 % of elderly people living at their home,
7 % benefiting from daycare,
3% living in specialised residences

This plan also includes more care for dependent people by developing new accommodations: currently there are 42 500 accommodation facilities.
A France Pavilion will be held at the China International Senior Services Expo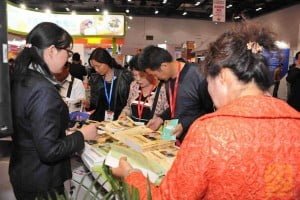 The France Pavilion will take place on May 8th and 9th, 2015, during the China International Senior Services Expo in Beijing. This event is organised thanks to the partnership of the French-Chinese association dedicated to elderly service, which gathers the French leaders of this sector (retirement homes operators, training specialists, etc.).
France Pavilion's benefits
A "key in hand"individual space of 6 square meters, with a workstation
Reduced costs of participation
Your participation's communication upstream towards Chinese decision-makers
Collective meetings with 2 Chinese operators specialised in retirement homes market.
This way, companies exposing in the France Pavilion area will join a collective space welcoming French companies gathered under a "France" banner, which will increase their visibility.

Published by the Editorial Staff on