The increasing life expectancy leads to a higher demand regarding new and up-to date treatment methods. MEDICA is one of the biggest expositions in the medical field worldwide, presenting new medical discoveries and technologies.
MEDICA is held in Dusseldorf alongside COMPAD starting today, 16th of November until to Thursday, 19th of November.
Healthcare & ICT
MEDICA is the world's largest medical trade fair. This edition will be held in Dusseldorf, from 16 to 19 of November, in parallel with COMPAMED, the international trade fair for suppliers of the medical technology industry.
During the 4 day's event, the organisers are attending almost 130,000 visitors, which will come from 120 different countries to encounter and to discover the 4,831 stands and exhibitors. This year, a remarkable increase of participants from countries like USA, China, the Netherlands, France, Spain, South Korea, Turkey or Saudi Arabia was noticed and highly welcomed.
It is the standing proof that medical discoveries are a leading subject and a reflexion matter all around the globe. As the world is ageing faster and faster, medicine is one of the leading field to give suitable solutions for the well-being of the elderly and their relatives.
This year, the exposition area is divided on several sectors:
Electromedicine and medical technology
Laboratory technology/diagnostics
ICT
physiotherapy and orthopaedic technology
commodities and consumables
medical furniture, etc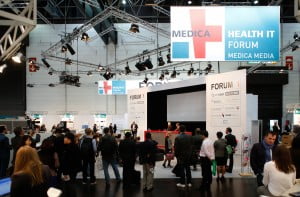 Visitors can also attend to different conferences and forums.
One of the conferences emphasises on all benefits of wearable technology. Indeed, modern diagnostics can be made by using this type of technology, in close contact of the body. All king of connected objects, wearables or smartwatches can improve a diagnostic but also the monitoring of a treatment.
Numerous forums are directly integrated into the fair, including MEDICA HEALTH IT FORUM, presenting innovations in telemedicine and the MEDICA CONNECTED HEALTCARE FORUM, presenting solutions for the digital networking of healthcare players.
MEDICA App competition
On Tuesday, 17th of November, the best medical app for professional use will be rewarded. All medical app previously nominated will be presented on stage, and afterwords the winner will be selected by a highly qualified jury. One of the criteria will be the business model of the app and its contribution to process optimisation and increasing efficiency. Last year's winner was "Medopad", an app which makes it possible to add captured health data to existing databases and make them available on tablets.
Published by the Editorial Staff on