In Beijing, all people aged 60 and over are given a multifunction card allowing the Chinese government to collect data on their daily lives and needs. The goal is to adapt public budgeting accordingly and provide age-appropriate services.
Changing demographics: Adapting society to the elderly
People over 60 need only swipe one card to access all public transport, public parks, consult a medical practitioner, or buy groceries. The government uses senior cards to track all activities and adapt public services to its rapidly-ageing population. At the beginning of each month, the card is toppe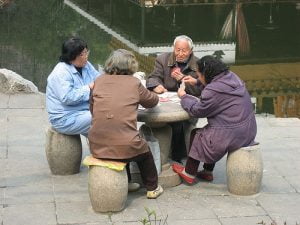 d up with 100 yuan; users also have the option to transfer additional money from a bank account.
The country is still coping with the aftermath of its one-child policy, which has recently come to an end after staying in effect for nearly 40 years and putting a noticeable dent in Chinese demographics; Chinese authorities now have to deal with an ever-decreasing population of working age and an ever-increasing senior population, which stands at 3 million at present. This tool is just one of the many ways the government intends to use big data to better harness resources and adapt public budgeting to the needs of its 1.4 billion people. Officials hope the system will help them predict mobility loss, among relevant trends, in order to set up age-appropriate infrastructures.
The government also aims to improve home-based care; thus the card is also a means to identifying seniors living on their own, their incomes, as well as the frequency at which they require services such as meal delivery or cleaning professionals, all of those can be paid for directly using the card. This system could thus prove a useful tool in fostering autonomy among home-based seniors.
China takes the lead in integrated technologies
Beijing is not alone in its commitment to the elderly; other cities have already implemented social security cards allowing seniors to use public transport and consult health professionals for free. The southern province of Guangdong has also announced that its public strategies would soon undergo a transformation to integrate big data. By the end of 2018, this system will be extended to Beijing, Tianjin and Hebei provinces and will involve nearly 20 million Chinese seniors, cementing China's commitment to its aging population.
According to Rogier Creemers, an Oxford scholar dedicated  to researching China's governance of technology, the extent of China's integration of big data into public policies sets up an unprecedented example. The Chinese Communist party acting as a unifying force is one explanation for the high level of coordination it managed to reach.
Published by the Editorial Staff on